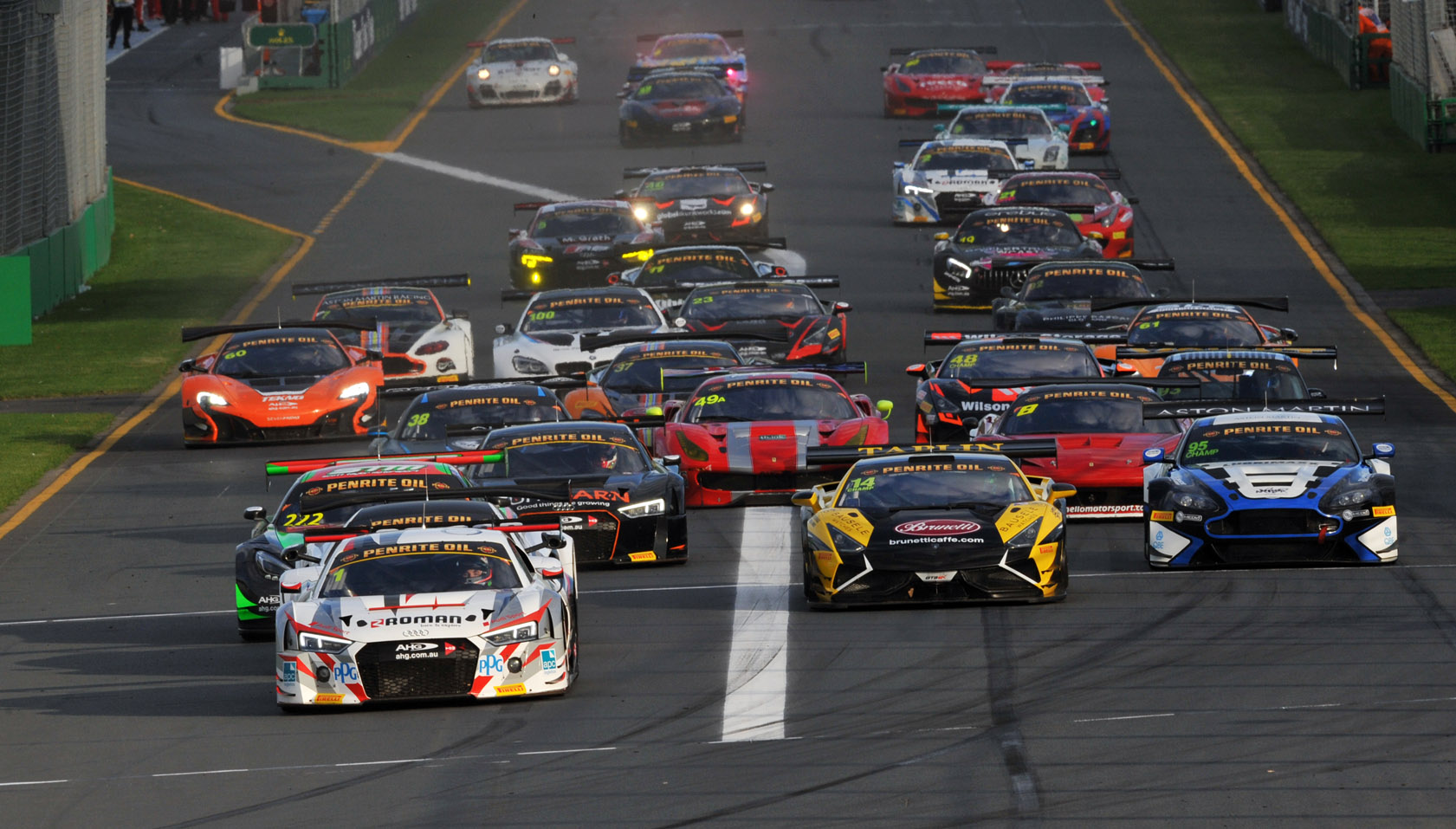 The four 25-minute races at the Formula 1 Australian Grand Prix will feature an exciting new format as the CAMS Australian GT Championship heads to Albert Park for Round 2 of the season (March 23-26).
After returning to the iconic event last year following a five year absence, Australian GT proved a popular addition to the weekend's action.
The event also witnessed the first global win for the Mercedes-AMG GT3 courtesy of Craig Baird and Scott Taylor, and the worldwide debut of the Ferrari 488 GT3.
Building on the 2016 event, this year the Australian GT Championship will take to the circuit six times across the weekend, with two qualifying sessions feeding into four 25-minute races.
The format has been tweaked from 2016, and will this year see the higher rated driver take part in the opening qualifying session, with the second driver stepping into the car for the second 20-minute qualifying session on Thursday.
The four races follow the same pattern, with the higher rated driver set to compete in races one and three, and the team's second driver in races two and four with no pit stops or time added post-race.
Teams electing to enter a single driver will take part in all sessions as usual.
A progressive grid will be used to set the starting order for the next race for that driver; the results from race one setting the grid for race three, and the results from race two setting the grid for the final race of the weekend.
It will make for four explosive sprint races which will see the world's leading automotive marques battling out on track for victory in each and every encounter.
The points structure for the weekend has also been refined, with an emphasis placed on the final race of the weekend where victory is worth 80 points, while the opening race of the weekend will net the winner 25 points.
Together with points for qualifying it makes the weekend equal in value to all other CAMS Australian GT Championship weekends, with a maximum of 220 points on offer.
The 2016 CAMS Australian GT Championship will take to the circuit on Thursday (March 23) for two qualifying sessions and the opening race of the weekend.
A further race on each of the event's three remaining days cap off the second round of the championship.
Australian GT Championship – Round 2 Schedule
Thursday, 23 March
11:50 – Qualifying 1 (Driver 1)
13:35 – Qualifying 2 (Driver 2)
15:10 – Race 1 (Driver 1)
Friday, 24 March
10:45 – Race 2 (Driver 2)
Saturday, 25 March
12:05 – Race 3 (Driver 1)
Sunday, 26 March
11:30 – Race 4 (Driver 2)