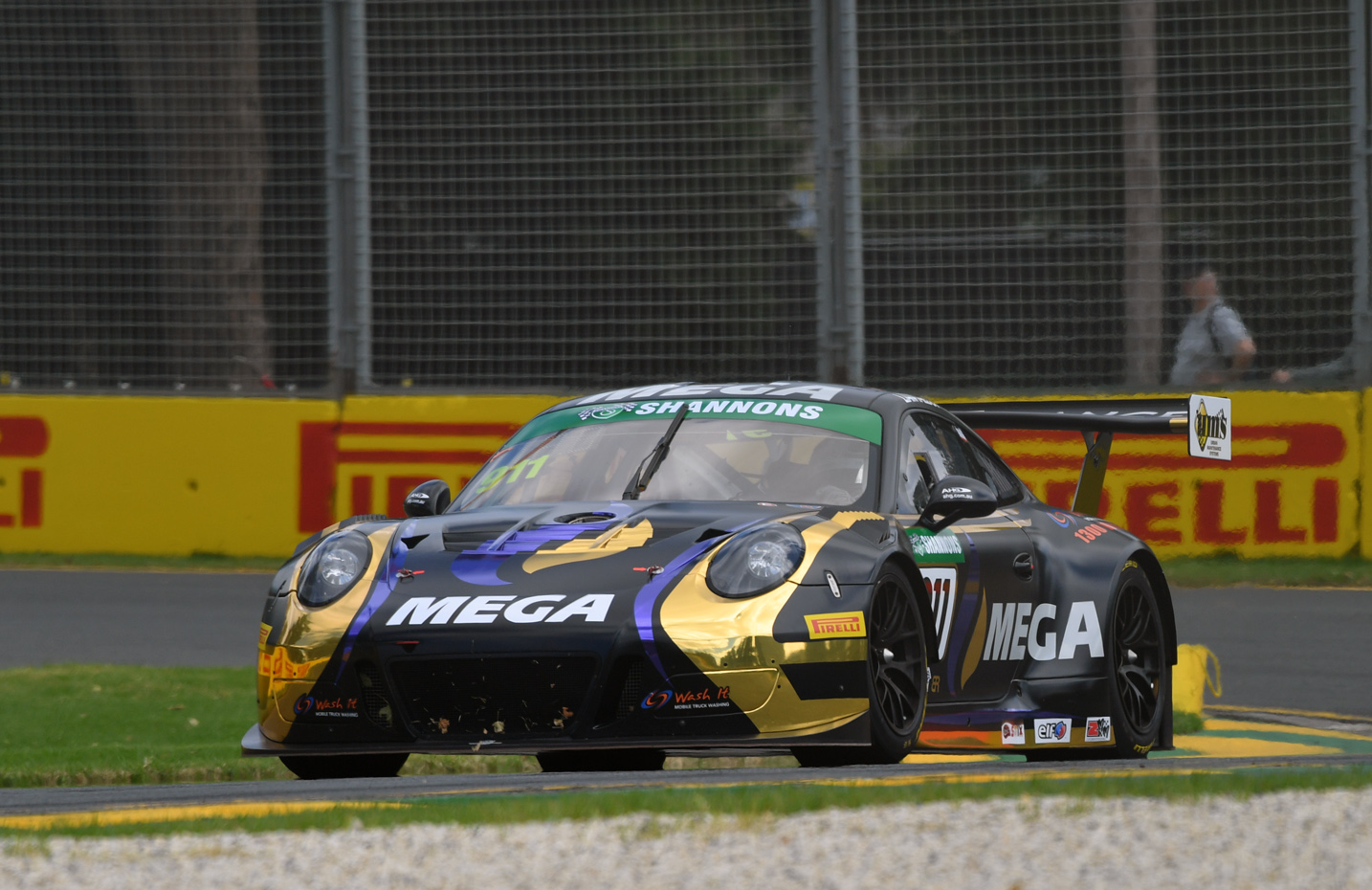 Liam Talbot has had an eventful start to the second round of the Australian GT Championship at the Formula 1 Rolex Australian Grand Prix, bringing the MEGA Racing Porsche 911 GT3 R home in 12th in the first race.
A busy day saw the Queenslander elevate his Porsche into the top 10 right on the chequered flag in qualifying one – his first ever look at the Albert Park Grand Prix circuit. This session would set the grid for race one this afternoon – which was for the 'Pro' drivers (in the case of two driver cars).
He took the start and held his own through the opening corner skirmishes and began to settle into race pace for the 25 minute duration.
A battle that started at turn one soon re-ignited with Max Twigg and the pair locked horns throughout the first half of the race. Eventually though, Talbot was able to pull clear and develop his own race – catching the Lamborghini in front of him significantly in the final stanza.
Ultimately, he crossed the line in 12th position, sporting a few minor battle scars on the rear of the immaculate black, gold and purple Walkinshaw GT3-prepared LTR Porsche.
Tomorrow's second race – for the Amateur drivers – will see the Blancpain Endurance Series Champion start from seventh on the grid after an entertaining second qualifying session, held just before race one.
Talbot was on provisional pole position momentarily, however was unable to maintain after identifying a small issue that the Walkinshaw GT3 team has been working on throughout the day to ensure the MEGA Racing Porsche can derive optimum performance in front of the massive Formula 1 crowd.
Tomorrow's second race begins at 10:45am local time and promises to be packed full of excitement. Coverage on ONE HD.
LIAM'S LOWDOWN – RACE 1 – FINISHING POSITION 12th:
"It was a bit chaotic, we were in formation on our side, the other side wasn't so good and then it was on from there! I got a slight ram in the rear and it was all go!
"There are a few things that we are working on the MEGA Racing Porsche to adjust it as the temperature today was a bit warmer than we first anticipated.
"In general though, the car is unreal, it is unbelievable to drive it here at this circuit and be part of the Rolex Formula 1 Australian Grand Prix – and tick this track off the list!
"Tomorrow starting seventh, we just need to keep our nose clean not do anything silly, avoid those who are and push where we can!"
Friday, March 24
10:45-11:10 – Australian GT – Race 2
Saturday, March 25
12:05-12:30 – Australian GT – Race 3
Sunday, March 26
11:30-11:55 – Australian GT – Race 4