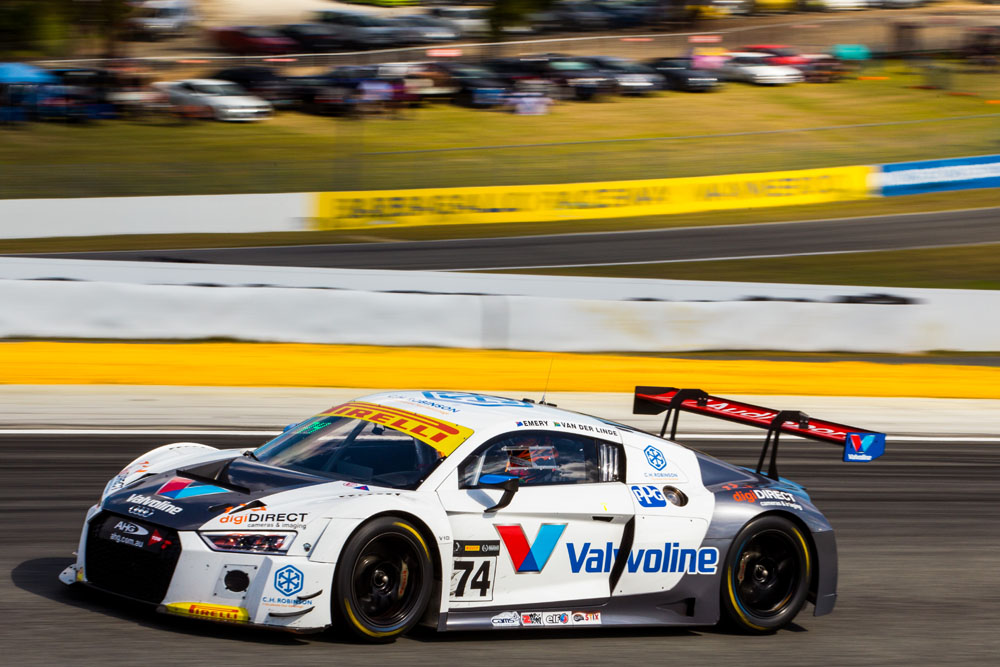 Former Supercars Champion Garth Tander and rising star Jaxon Evans will join the Valvoline Jamec Pem Racing team for the Australian Endurance Championship at Phillip Island (May 26-28).
Tander will step into the #74 Valvoline entry alongside Geoff Emery, while Evans will join Tim Miles, who competed in the #75 entry at Round 2 of the Australian GT Championship in Albert Park.
No stranger to the team, Tander has chalked up 10 Australian GT Championship appearances, including victory at the inaugural Phillip Island 101 in 2014.
"You look at the speed we had in the car last year at the Phillip Island round, we were really, really fast, things just didn't roll our way," said Tander.
"We're certainly looking to continue the speed aspect of it. Sharing the car with Geoff, who's doing a fantastic job this year on his return to racing after his injury last year, I'm really looking forward to that.
"It's easy to look at it on the surface and say it's just 500km around there, but there's a fair bit of strategy involved," Tander warned.
"For me, I enjoy that challenge because I only jump in it a couple of times a year, so I enjoy driving something different.
"I think we'll be among it, but there's always strong contenders."
Twelve months ago Tander combined with Steve McLaughlan to take pole position at the sweeping Victorian circuit in both the Australian GT Championship and Australian Endurance Championship events.
This time he'll partner Geoff Emery, who is fresh from a successful weekend at Barbagallo as part of the Australian GT Championship, where he claimed second for the round and moved within striking distance of the championship lead.
"I think Garth and I are going to be a really strong combination," Emery enthused.
"He was very quick at Bathurst and last year the Audi was really fast at Phillip Island, so we're very confident heading in.
"Last year I didn't get a chance to really reach my potential, but this year I think it's all coming together.
"I've driven the car at six race meetings now, so I'm really comfortable and its getting easier to drive the longer I'm in it."
Having made his first Australian GT appearance at the end of 2016, young gun Jaxon Evans will make his debut for Jamec Pem Racing at Phillip Island.
An accomplished racer despite his youth, the New Zealand native is looking forward to his first taste of the Audi R8 LMS, and the chance to work alongside the Audi Sport Customer Racing Australia crew.
"I'm pretty excited to be joining Jamec Pem Racing for the endurance round," said Evans.
"They've got some good mechanics and engineers, and they're always at the front of the race, so I'm looking forward to tasting the new Audi and also a new team."
Evans, who has been coached by Supercars endurance racer Warren Luff, is also looking forward to the opportunity to compare notes with Tander.
"You can't ask for much more than having Luffy as a driver coach, but being able to benchmark yourself against Garth is always good for someone who is coming up the ranks and trying to make a mark on motorsport."
Sharing the car will be Tim Miles, who returns to the Jamec Pem Racing squad after an appearance at Round 2 of the Australian GT Championship at Albert Park.
"It took me until Race 4 to get the hang of it at the Grand Prix," said Miles.
"It will be nice to get some decent track time and be able to get up to speed, we all know the Audi is very, very competitive, so we're going in with a shout of a good result.
"Phillip Island is a fast circuit," he continued.
"It's got a lot of fast, flowing corners – turns one, three, Hayshed – all of those corners are going to benefit from the downforce that the Audi has got."
Miles is also excited about the prospect of racing alongside Evans, having closely followed his career since it began.
"Jaxon's Dad and I have been friends since we were at school together, and I've watched Jaxon's career through go-karts; he's been incredibly fast in everything he's sat in.
"He'll turn a few heads, because I think he'll adapt very well. I'm really looking forward to it, as is he!"
The two pronged Jamec Pem Racing attack takes to the circuit for the opening round of the 2017 Australian Endurance Championship at Phillip Island on May 27, with practice and two qualifying sessions.
A new format then follows on Sunday, with morning warmup followed by a new 500km endurance race.
CAMS license holders enjoy free entry across the weekend, while fans across Australia and the globe can follow the action via a live stream available on the Shannons Nationals website – www.thenationals.com.au.