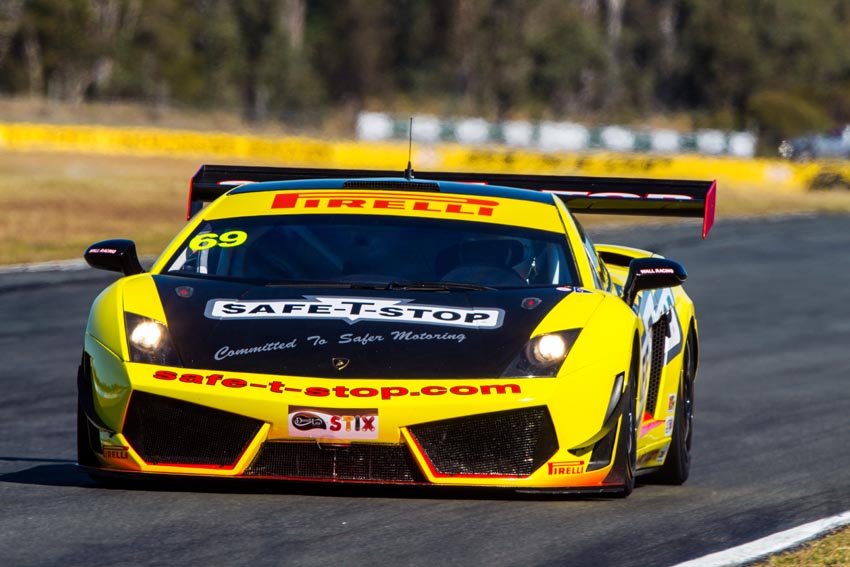 Richard Gartner has rocketed around Queensland Raceway to record his first ever CAMS Australian GT Trophy Series pole position.
The Safe-T-Stop Lamborghini Gallardo driver topped both sessions to confirm his place at the head of the field for tomorrow's opening 50-minute race.
Gartner's best of 1m10.284 shattered the qualifying lap record by more than a second, with the front four all under the previous marker.
The two 20-minute qualifying sessions proved intensely competitive, with Gartner, Rod Salmon (Skwirk Online Education), Steve McLaughlan (Valvoline Jamec Pem), Wayne Mack (Mack Bros Roofing Products) and Jan Jinadasa (JJA Consulting) all vying for top spot.
Having set the fastest time in the opening session, Gartner then backed up that effort, bettering his previous best by half a second.
Qualifying 2 proved the faster of the two, as Salmon recorded the second-best time over points-leader McLaughlan whlie Jinadasa will line up on the second row after setting a strong 1m11.193s.
Last year's pole sitter, Jake Camilleri again proved the fastest MARC Class entry, edging the impressive Aaron Cameron.
On debut in the series, Cameron lapped just half a second adrift of 2016 class title winner, and will line up comfortably inside the top ten on the overall grid.
Topping the Challenge Modern class was the Anarik Racing duo of Jamie Arratoon and John Nikolovski, who lapped the 3.12km circuit in 1m13.259s to record the 12th fastest time of the day.
They were only narrowly faster than Mark Griffith aboard the Griffith Corporation Ferrari F430 in a closely fought class battle.
For Gartner, it wasn't all smooth sailing, with an off at the exit of the first turn seeing the Safe-T-Stop entry bounce over the grass in the dying stages of Qualifying 2.
Though unscathed, the off prevented Gartner from improving on his time as the session built to a climax, and although already holding the provisional fastest time, it made for a nervous wait as the final minutes ticked down while on track Steve McLaughlan and Rod Salmon wound up for their final flying laps.
A stunningly consistent string of laps saw McLaughlan edge his way closer to Salmon and Gartner, but fell two-tenths short of recording his third pole position of the season
Having set the fastest time in both sessions, Gartner also scored valuable points in the title race, recording 10-points from each session.
He'll now lead the field to the green flag in the opening 50-minute race, scheduled for 09:00 tomorrow morning.
Race 2 then follows at 11:45 with both streamed live and free on the AustralianGT website (www.australiangt.com.au/live).
Qualifying Results: Queensland Raceway
| | | | | | | |
| --- | --- | --- | --- | --- | --- | --- |
| Pos | Competitor/Team | Driver | Vehicle | Q1 Time | Q2 Time | Best |
| 1 | Safe-T-Stop | Richard Gartner | Lamborghini Gallardo | 1:10.706 | 1:10.284 | 1:10.284 |
| 2 | Audi Sport Customer Racing | Rod Salmon | Audi R8 LMS Ultra | 1:11.025 | 1:10.410 | 1:10.410 |
| 3 | Audi Sport Customer Racing | Steve McLaughlan | Audi R8 LMS Ultra | 1:10.913 | 1:10.520 | 1:10.520 |
| 4 | JJA Consulting Group | Jan Jinadasa | Lamborghini Gallardo | | 1:11.193 | 1:11.193 |
| 5 | MARC Cars Australia | Jake Camilleri | MARC Mazda V8 | 1:12.534 | 1:11.593 | 1:11.593 |
| 6 | CCC Polished Concrete | Rick Mensa | Audi R8 LMS | 1:12.508 | 1:11.880 | 1:11.880 |
| 7 | MARC Cars Australia | Aaron Cameron | MARC Focus V8 | 1:12.496 | 1:11.992 | 1:11.992 |
| 8 | Audi Sport Customer Racing | Rio Nugara | Audi R8 LMS Ultra | 1:13.149 | 1:12.058 | 1:12.058 |
| 9 | Audi Sport Customer Racing | Rob Smith | Audi R8 LMS Ultra | 1:12.090 | 1:12.302 | 1:12.090 |
| 10 | MARC Cars Australia | Brad Woods/Tyler Everingham | MARC Mazda V8 | 1:13.747 | 1:12.568 | 1:12.568 |
| 11 | Gap Solutions/SEKTOR | John Goodacre | MARC Focus V8 | 1:13.735 | 1:12.745 | 1:12.745 |
| 12 | Anarik Racing | Jamie Arratoon/John Nikolovski | Ferrari 458 Challenge | 1:13.259 | 1:14.508 | 1:13.259 |
| 13 | Griffith Corporation | Mark Griffith | Ferrari F430 | | 1:13.453 | 1:13.453 |
| 14 | Eastgate Engineering | Geoff Taunton/Jason Busk | MARC Focus V8 | 1:13.536 | 1:14.874 | 1:13.536 |
| 15 | Harcourts Epping | Emanuel Mezzasalma | Porsche 997 | 1:14.161 | 1:13.936 | 1:13.936 |
| 16 | Whitlock Bull Bars | Con Whitlock | Audi R8 LMS | 1:15.751 | 1:16.346 | 1:15.751 |
| 17 | On Track Motorsport | Garry Mennell/Kean Booker | Porsche 997 | 1:20.898 | 1:16.984 | 1:16.984 |
| 18 | Fiorano Motorsport | Scott Hookey | Ferrari 458 Challenge | 1:18.652 | 1:18.008 | 1:18.008 |
| 19 | Solar & Energy Finance | Ant Basile/Todd O'Brien | Ginetta G50 GT4 | 1:24.064 | | 1:24.064 |
| 20 | Mack Bros Roofing Products | Wayne Mack | Ferrari 458 GT3 | | | |