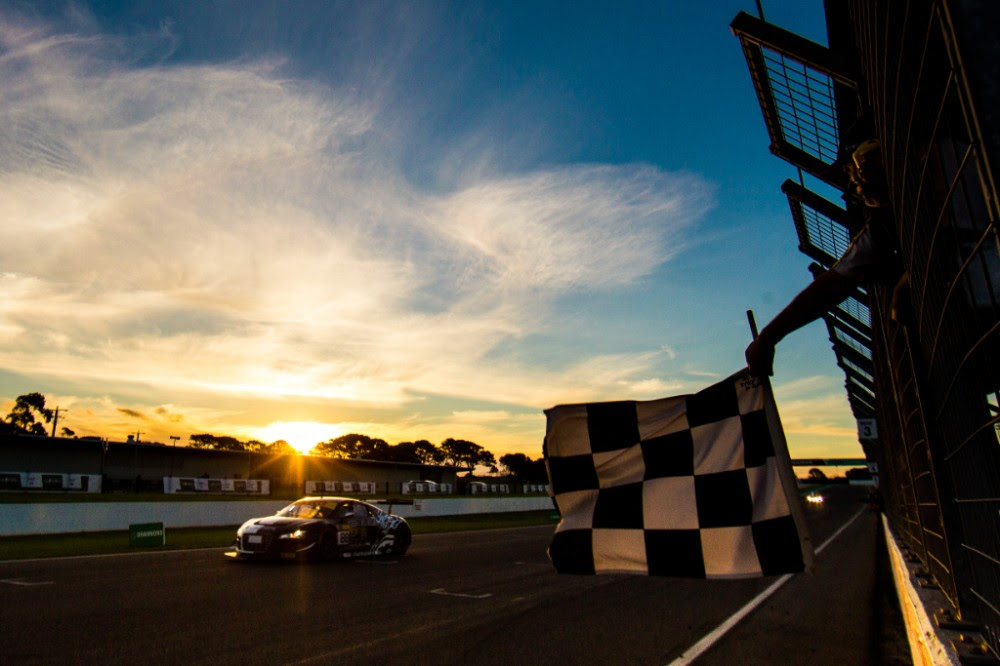 Rio Nugara has won both CAMS Australian GT Trophy Series races at Phillip Island following a thrilling finale to Race 2.
A stunning performance in the opening race of the day saw the EAT Furniture Audi R8 LMS Ultra race home more than seven seconds clear of Nick Kelly in the Industrie Audi R8 LMS Ultra, with the podium completed by stablemate Matt Stoupas in the KFC Audi.
Nugara then backed up his Race 1 performance with a stunning drive under immense pressure, resisting the relentless onslaught from a charging Kelly in the final half of the race to claim a sensational win.
The race was dominated by a thrilling three-way dice for the lead between Nugara, Kelly and John Morriss (Motorsport Leasing / RaceRamps) which built to a climax in the final laps.
Nugara had emerged from the pits with a comfortable advantage at the head of the race, managing his pace as Kelly and Morris closed in on the leader.
With ten minutes remaining the three ran nose to tail, with Nugara holding out against incredible pressure – setting the fastest lap of the race on lap 30.
In the final lap Nugara edged clear to win by 1.7seconds over Kelly, who was a slender 0.3seconds ahead of Morriss at the flag.
Morriss had earlier lined up from pole in the opening race, leading the race prior to his stop.
The Porsche driver rejoined fourth before becoming embroiled with a four-way scrap over second with Kelly, Stoupas, and Dave Stevens (Superfluid Ferrari 458 GT3).
Kelly gained the upper hand by the end of the 25-lap race, taking second by 0.7s over Stoupas with Stevens and Morriss split by 0.1s after dropping a couple of seconds back late in proceedings.
American racer Brett Strom (RHC Jorgensen-Strom by MARC Cars) held the advantage in the MARC Cars class over Adam Hargraves (LOCAL Search by MARC Cars) to take out the round, with Daren Jorgensen seeing the flag in the RHC Jorgensen-Strom by MARC Cars BMW M4 GT4 on both occasions.
With two wins from as many starts Nugara took out the round, closing Kelly's title advantage by 19 points as he moved into second place.
The next round of the Australian GT Trophy Series rejoins the Australian GT Championship at Sydney Motorsport Park on August 3-4.

Result: CAMS Australian GT Trophy Series, Phillip Island, Race 1
| | | | | | | |
| --- | --- | --- | --- | --- | --- | --- |
| Pos | Car | Competitor/Team | Driver | Vehicle | Laps | Race Time |
| 1 | 188 | E.A.T. Furniture | Rio Nugara | Audi R8 LMS Ultra | 25 | 0:40:22.758 |
| 2 | 99 | Industrie | Nick Kelly | Audi R8 LMS Ultra | 25 | 0:40:29.579 |
| 3 | 23 | Kentucky Fried Chicken | Matthew Stoupas | Audi R8 LMS Ultra | 25 | 0:40:30.255 |
| 4 | 147 | Superfluid | Dave Stevens | Ferrari 458 GT3 | 25 | 0:40:34.546 |
| 5 | 34 | Motorsport Leasing / RaceRamps | John Morriss | Porsche 911 GT3 R | 25 | 0:40:34.687 |
| 6 | 991 | Perfect Auto Body | Vincent Muriti | Audi R8 LMS Ultra | 25 | 0:41:00.002 |
| 7 | 71 | Dale Paterson Motorsports | Dale Paterson | Chevrolet Camaro | 25 | 0:41:00.847 |
| 8 | 33 | RHC Jorgensen-Strom by MARC Cars | Brett Strom | MARC Mazda V8 | 25 | 0:41:22.838 |
| 9 | 20 | LOCAL Search by MARC Cars | Adam Hargraves | MARC Mazda V8 | 24 | 0:40:41.059 |
| 10 | 13 | RHC Jorgensen – Strom by MARC Cars | Daren Jorgensen | BMW M4 GT4 | 23 | 0:40:23.455 |
| | 12 | Seidler Group | Chris Seidler | Porsche 911 GT3 Cup Car | 3 | 0:11:31.874 |
Result: CAMS Australian GT Trophy Series, Phillip Island, Race 2
| | | | | | | |
| --- | --- | --- | --- | --- | --- | --- |
| Pos | Car | Competitor/Team | Driver | Vehicle | Laps | Race Time |
| 1 | 188 | E.A.T. Furniture | Rio Nugara | Audi R8 LMS Ultra | 32 | 51:00.522 |
| 2 | 99 | Industrie | Nick Kelly | Audi R8 LMS Ultra | 32 | 51:02.263 |
| 3 | 34 | Motorsport Leasing / RaceRamps | John Morriss | Porsche 911 GT3 R | 32 | 51:02.553 |
| 4 | 23 | Kentucky Fried Chicken | Matthew Stoupas | Audi R8 LMS Ultra | 32 | 51:19.873 |
| 5 | 147 | Superfluid | Dave Stevens | Ferrari 458 GT3 | 32 | 51:33.128 |
| 6 | 991 | Perfect Auto Body | Vincent Muriti | Audi R8 LMS Ultra | 32 | 51:56.843 |
| 7 | 71 | Dale Paterson Motorsports | Dale Paterson | Chevrolet Camaro | 32 | 52:00.401 |
| 8 | 33 | RHC Jorgensen-Strom by MARC Cars | Brett Strom | MARC Mazda V8 | 32 | 52:07.697 |
| 9 | 20 | LOCAL Search by MARC Cars | Adam Hargraves | MARC Mazda V8 | 31 | 52:01.522 |
| 10 | 13 | RHC Jorgensen – Strom by MARC Cars | Daren Jorgensen | BMW M4 GT4 | 30 | 52:06.546 |
| | 12 | Seidler Group | Chris Seidler | Porsche 911 GT3 Cup Car | 22 | 51:09.325 |
Points Standings: CAMS Australian GT Trophy Series
| | | | | |
| --- | --- | --- | --- | --- |
| Driver | Total | R1 | R2 | R3 |
| Nick Kelly | 608 | 220 | 196 | 192 |
| Rio Nugara | 517 | 139 | 165 | 213 |
| Matthew Stoupas | 496 | 159 | 182 | 155 |
| John Morriss | 486 | 172 | 154 | 160 |
| Dave Stevens | 284 | | 146 | 138 |
| Luke Seidler | 162 | 42 | 118 | 2 |
| Chris Seidler | 162 | 42 | 118 | 2 |
| Dale Paterson | 205 | 40 | 48 | 117 |
| Joseph Ensabella | 161 | 46 | 115 | |
| Vincent Muriti | 127 | | | 127 |
| Wayne Mack | 81 | 81 | | |
| Daniel Stuttered | 80 | 80 | | |
| Michael Loccisano | 78 | 78 | | |
| Jan Jinadasa | 77 | 24 | 53 | |
| Shane Barwood | 68 | 68 | | |
| Sam Fillmore | 37 | 37 | | |