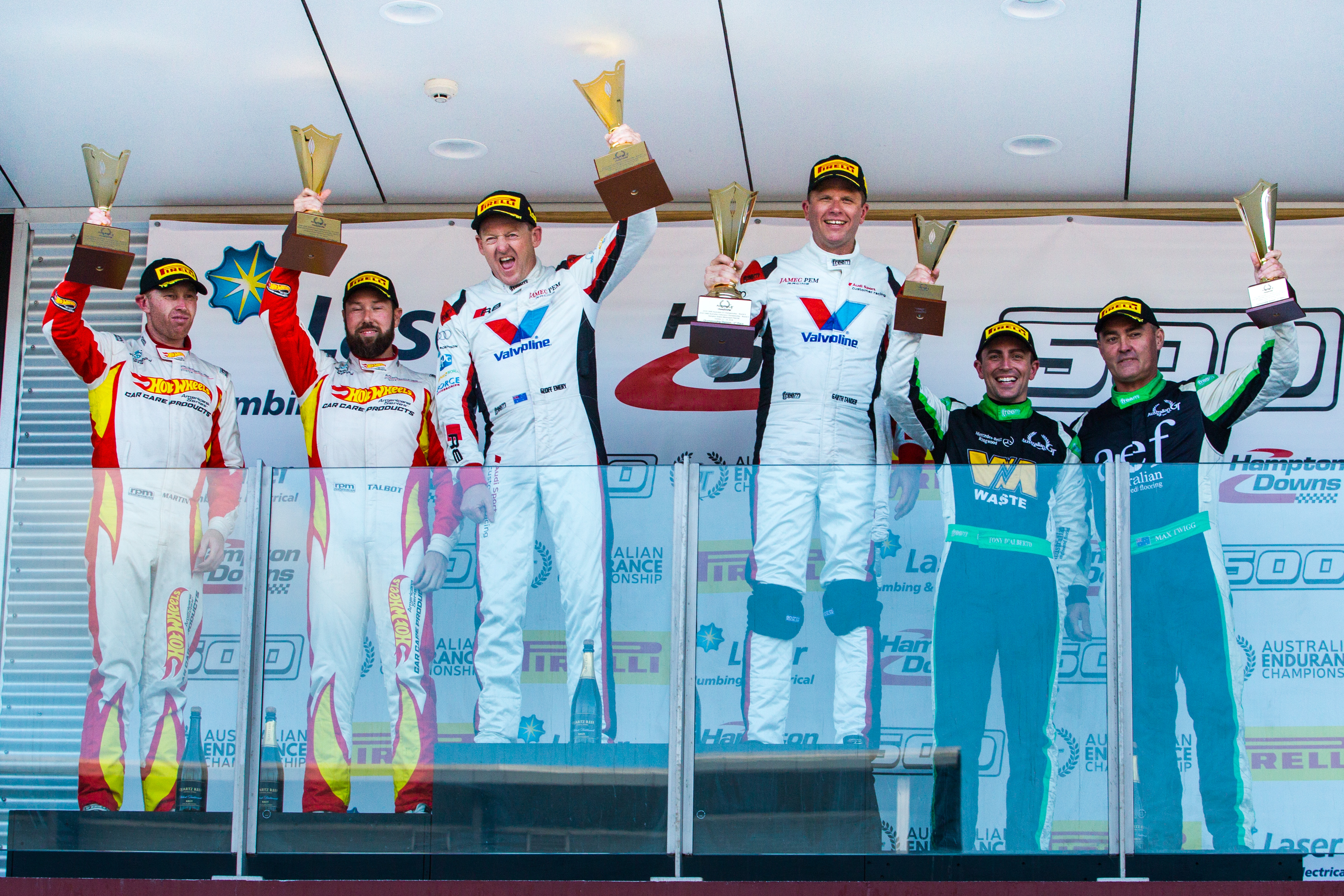 Geoff Emery and Garth Tander have won an extraordinary Australian GT finale and the Laser Plumbing & Electrical Hampton Downs 500.
The season finale delivered a nail-biting finish with the leading four runners nose to tail in an epic race that saw two Australian GT titles awarded.
Driving the final stint, Tander (Valvoline Audi R8 LMS GT3) seized the lead from John Martin (Hot Wheels Car Care Products Porsche 911 GT3 R) to move into the lead, handing the CAMS Australian GT Championship to co-driver Emery.
Finishing in third, Max Twigg and Tony D'Alberto confirmed themselves as victors of the CAMS Australian Endurance Championship in the WM Waste Management Mercedes-AMG GT3.
From the start, Martin jumped into an early lead before being hunted down and passed by Craig Baird in the Scott Taylor Motorsport Mercedes-AMG GT3 with a stunning early stint.
Fraser Ross (Total/Opti-Coat McLaren 650S GT3) and Peter Hackett (Eggleston Motorsport Mercedes-AMG GT3) made contact midway around the third lap, with Ross pitched into the spin which left his rear wheels buried in the gravel.
The contact saw Ross drop half a lap as the Safety Car was deployed, while Hackett picked up a drive through penalty, triggering a remarkable recovery drive from the veteran.
Running an alternate strategy, Baird led the race until handing the car to Scott Taylor on Lap 54.
Hackett and Liam Talbot, who had climbed into the Hot Wheels Car Care Products Porsche on Lap 16, then emerged at the head of the race as it moved towards its closing stages.
Dom Storey took over the Mercedes-AMG GT3 on Lap 46 before becoming embroiled in a thrilling battle with Martin, who'd stepped back into the Porsche.
However, contact between the pair at the Porsche Dipper turned the race of its head.
Storey made his way by as Martin slid wide of the apex, an incident for which he picked up a drive-through penalty, dropping him to fifth.
The trio of Tander, D'Alberto and Dan Gaunt (KFC/MoveItNet Audi R8 LMS GT3) then closed in on race leader Martin, creating a four-way battle which waged until the chequered flag.
A brilliant defensive drive from Martin kept Tander at bay, before the Audi finally found a way through at Pirelli Corner as they begun the 83rd lap having harried the back of the Porsche for 10 laps.
It was a decisive move which ultimately handed Emery the Australian GT Championship.
D'Alberto then found himself locked onto the rear wing of the second placed Porsche but was unable to find a way through, settling for third which confirmed he at Twigg as winners of the CAMS Australian Endurance Championship.
Martin and Talbot ended the race second while Hackett and Storey finished fourth, one place ahead of Ross and Duvashen Padayachee.

Driver Quotes
Geoff Emery, #1 Valvoline Audi R8 LMS GT3
"It's massive, Audi Sport Customer Racing Australia have put together an amazing car for me.
"We had a little bit of bad luck in qualifying but the car was reliable all year, and we just kept chipping away at it.
"Driving with professionals like Garth, it just gets the job done at the end of the day you make minimal mistakes and whoever makes the least number of mistakes wins.
"Coming back to the start of the race I thought we might be on for a podium at best, but Garth had good pace at the end of the race and all of a sudden we were in with a good chance.
"There's no doubt we'll celebrate, we won't miss on that!"

Max Twigg, #8 WM Waste Management Mercedes-AMG GT3
"It's what we set out to achieve; we didn't anticipate doing any sprint rounds, it was all about the Australian Endurance Championship, right from The Bend, to Philip Island, to Hampton Downs.
"We didn't think we'd get a place today, to be honest with the way the seedings work, but we did, we got third and I think we were so close to getting a first.
"We both drove well, Tony always drives exceedingly well.
"The last lap I thought Daniel Gaunt was going to tag him and turn him around. That's when I got nervous!"

Tony D'Alberto, #8 WM Waste Management Mercedes-AMG GT3
"Achieving your goals is always pretty special, and to win it for Max and Scott Taylor Motorsport is awesome.
"The race was probably a little bit tougher than I expected, but up against some quality guys out there, racing hard, it was what it was meant to be like.
"We were all trying to get those last couple of points, and obviously Geoff and Garth trying to win the Australian GT Championship, and we were trying to wrap up the Australian Endurance Championship.
"Really stoked, really happy.
"It's lucky Max was't on the radio because he was telling to boys to tell me to have a big crack!
"If I had have been able to get through on the Porsche we would have been able to clear off, but I couldn't do it safely enough and I probably wasn't aggressive enough.
"We managed the situation, we knew what we had to do, and came away with a podium as well, so it's even better."