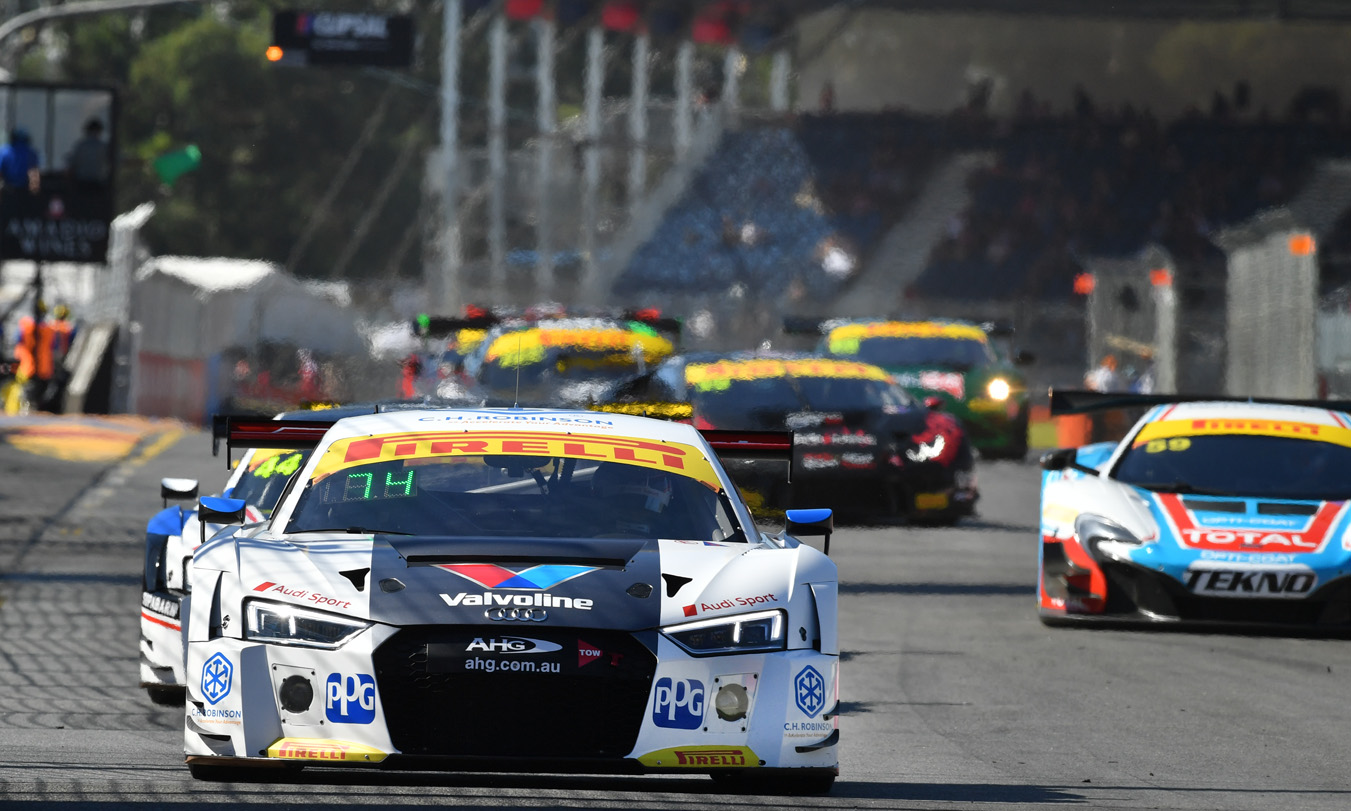 Audi Sport Customer Racing Australia is set to field six current-spec Audi R8 LMS' at Albert Park next weekend for the second round of the 2017 Australian GT Championship.
The impressive fleet of entries will mark Audi Sport Customer Racing Australia as the biggest single outfit on the Australian GT grid as it takes part in the country's best attended motorsport event.
With an exciting new race format, which will see drivers sprint from lights to flag in all four 25-minute encounters, the weekend promises to be memorable for the team's drivers.
"I love the track," exclaimed Apartment Hotel Team ASR driver Ash Samadi. "It's an awesome, amazing track and in particular it suits Audi.
"The bigger the crowd, the more exciting it becomes and the harder you work, so that's a big factor," continued Samadi.
"This is our best chance to win a race," said Geoff Emery, who has recorded pole position in his last four Australian GT outings.
Emery will drive with Audi factory ace Kelvin van der Linde in a combination that should see the #74 Valvoline Audi R8 LMS at the front of all four races.
"I think in the Am races we should be fairly strong, I think the top three is a realistic ambition for us given our speed and our car. That's where we should be aiming.
"It'll be the same for Kelvin, though he'll have some tough competitors out there too – some in the same equipment!"
A veteran of Australian GT racing, James Koundouris has finished second, third, fourth, fifth and sixth in the championship, and sees the Australian Grand Prix weekend as an important step in his quest to secure his first Championship victory.
A winner at Albert Park a year ago, Koundouris is cautiously optimisitc heading into the weekend, though with co-driver Ash Walsh in the Supabarn Supermarkets Audi R8 LMS the duo is in strong shape heading into the weekend.
"Every event is a new event and just because you went well last year doesn't mean you'll go well this year, you still have to work at it," Koundouris explained.
"Ash has shown that he's very quick," he added. "I really enjoyed driving with Ash in Adelaide; I find driving with Pro drivers pulls you along, and from an Amateurs perspective that can improve your driving."
Taking advantage of the unique race format this weekend, Marc Cini has recruited former Supercars driver Dean Fiore in the Hallmarc Construction Audi R8 LMS.
It will be Cini's second weekend aboard the current-spec machine after a solid opening weekend in Adelaide. Fiore meanwhile will make just his fourth Australian GT start, and his first since Sandown 2007.
Stepping into the #75 Valvoline Audi R8 LMS will be Tim Miles who, like Samadi, will compete as a solo driver across the weekend.
Miles has experience behind the wheel of an Audi, having competed in an Audi R8 Ultra in the 2016 Australian GT Championship, but this will be his first taste of the German marque's latest offering.
"It's an exciting opportunity, and the Grand Prix of all places will be the perfect place to try it out," Miles said of the opportunity to race the Valvoline backed car.
"When you're doing it solo it gives you a lot of time in the car to bring yourself up to speed, so I'd like to think by Race 2 I won't have the new car as an excuse anymore."
"The level of professionalism in GT racing has stepped up year on year, which is a credit to the category as a whole, and Audi Sport Customer Racing Australia has been one of the benchmark teams."
Fresh from podium success at the opening round of the 2017 Victorian State Circuit Racing Championship, Gary Higgon will make his Australian GT Championship debut at the wheel of the KFC Audi R8 LMS.
"I really want to drive the Albert Park circuit," Higgon enthused. "I know the other circuits, but not Albert Park. I think it will be fast, but perhaps not Formula 1 fast!"
Higgon will be joined by race winner Daniel Gaunt, who has solid experience in Australian GT with 21 race starts to his name, making for an exciting combination aboard the striking red and white entry.
On track action gets underway on Thursday (March 23) with two qualifying sessions and the opening race.
One race a day follows throughout the course of the weekend, providing spectators at Australia's biggest motorsport event the perfect opportunity to catch the Audi Sport Customer Racing Australia squad in action.
When not on track the fleet of Audi R8 LMS' will be proudly on display in the Australian GT paddock, with fans able to get up close and personal.
Those unable to make it to the track can enjoy the action from home, with Race 3 on Saturday set to be broadcast live on Network Ten as part of its Formula 1 Rolex Australian Grand Prix coverage.