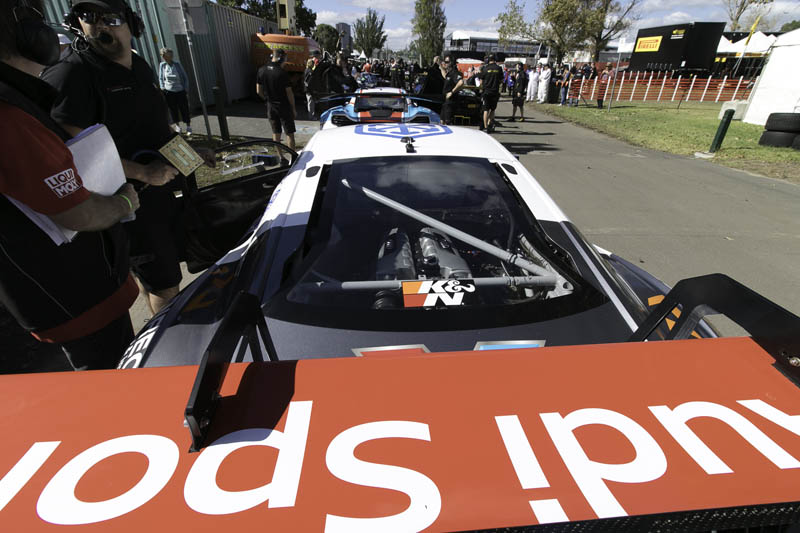 The largest outfit in the Australian GT championship, Audi Sport Customer Racing Australia has turned to K&N Filters for its fleet of Audi R8 LMSs for quality, reliability and performance.
Audi Sport Customer Racing Australia, operating out of the Melbourne Performance Centre, runs up to seven GT3 spec Audis in Australian GT as one of only a few customer sports programs for the marque outside of Europe, and supports more than 20 Audis across Australia and New Zealand.
Powered by a 5.2L V10, the Audi R8 LMS GT race car puts out up to 412kW of power and boasts 500Nm of torque.
According to team principal Troy Russell, the move to K&N Filters in the R8 has been a popular decision based on driver and engineer feedback.
"K&N Filters has always been a known and trusted brand for air filters throughout motor sport with a reputation for delivering performance," Russell said.
"The initial feedback from the drivers has been better response and better performance from their R8s since fitting the new filters.
"Australian GT sees the world's best cars battle it out on track and is known for tight and competitive racing. K&N Filters has provided us with the products to give us an edge over the competition."
GT Racing in Australia has taken off in recent years, with three separate championships taking place in 2017, the Australian GT Championship, Australian Endurance Championship and GT Trophy Series.
K&N Engineering's Business Manager for the Asia & South Pacific regions, Richard Smith says the relationship with Audi Sport Customer Racing Australia debunks the myth that K&N's products are only for muscle cars.
"K&N Engineering is constantly developing products for all makes and models. We're proud of the extensive range of filters we have for brands all around the world including for Audi's flagship GT cars, the R8 LMS," Smith said.
"Because our products are washable and reusable, Audi Sport Customer Racing Australia will be able to go a whole racing season on the same set of filters, instead of replacing them each race.
"We look forward to working closely with Troy Russell and the team over the 2017 Australian GT championships and proving our filters are the superior option for GT racing."