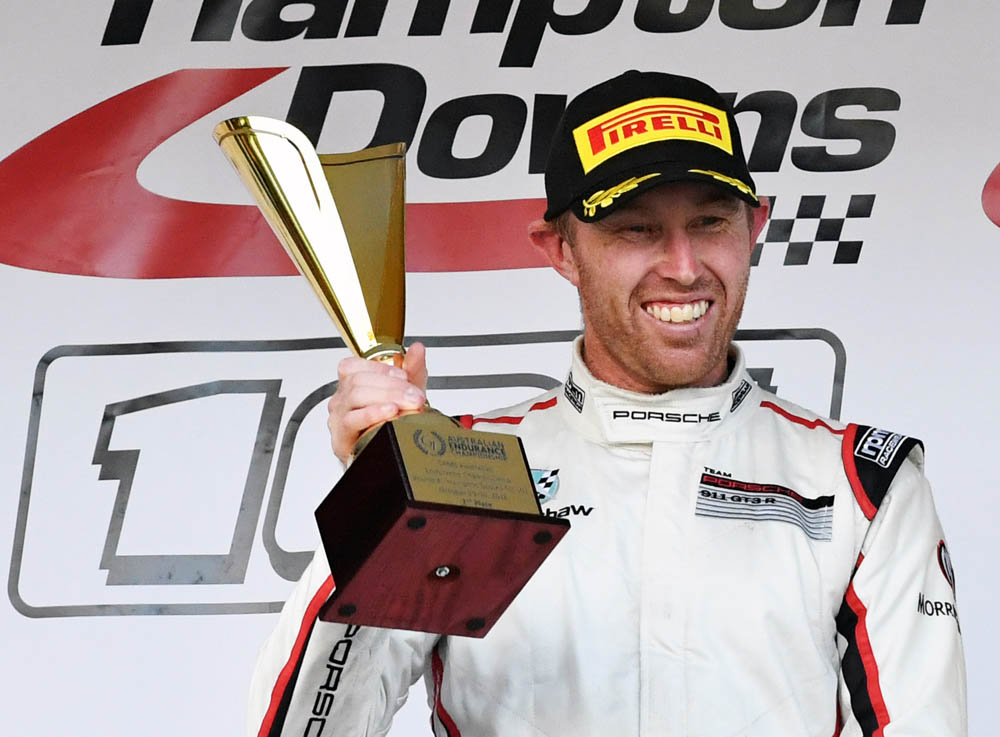 Liam Talbot will reunite with esteemed driver John Martin in the #911 MEGA Racing Walkinshaw Porsche GT3-R for the Australian Endurance Championship (AEC) in 2017.
Martin, who drove with Walkinshaw GT3 in its debut season in 2016, joins Australian GT championship leader Talbot, fresh off a round victory in Perth last start.
The pair first drove together in the Australian GT round at Highlands late last year, before successfully teaming up at the Bathurst 12 hour in February, where they won the Amateur class and finished fourth overall alongside Duvashen Padayachee.
Martin returns to the Walkinshaw stable with unfinished business. The 2016 AEC campaign yielded a fifth place in the championship despite only completing two of the four rounds.
"It's nice to be able to put something together for the AEC and to be back in the Porsche with Walkinshaw after all the homework and hard work we did last year is great. Hopefully we can pick up where we left off last year and get some results," John Martin said.
"If you have a look at last year, realistically we only started two rounds. We had pole and a second at Sydney Motorsport Park, and finishing up on the podium at Hampton Downs left us second in the championship coming into the last round."
Martin said re-joining the Walkinshaw team was a no-brainer.
"Walkinshaw are very professional. They have been around for a long time. Their record speaks for itself. It's great to be in this environment again," he said.
His partner in the MEGA Limited GT3 for the four-round championship, Liam Talbot, is thrilled to have someone of Martin's calibre alongside him.
"I'm really looking forward to joining forces again with John. He is a known talent, and we have seen first-hand how fast he is behind the wheel and how far he can progress the set-up of the car," Talbot said.
"I've still got a lot to learn in motorsport, so to have a guy of his talent and experience is only going to help me as well."
While Martin and Talbot have already formed a successful working relationship, they go back much further than that.
"I got to drive with him last year. I've followed his career for a while and he has gone on leaps and bounds in a short amount of time. It goes back further than that though. I've known him since I was a kid. It's pretty cool in a way that now we are driving the same race car," Martin said.

The team comes into the AEC season with a head full of steam following the sprint round win in Perth which gave Talbot the Australian GT Championship lead.

"Motorsport is about momentum, and I feel at the moment my driving is at a good level. With the setup of the car and the team it's all working well. I can't wait to get to endurance component started and progress it to the high level we have set in the sprint rounds," Talbot said.
The goal for Martin, a Le Mans 24 Hour LMP2 pole sitter, is clear-cut.
"Win races. It's always been the same goal. The only reason I go racing is to get pole, get fastest lap of the race and then win the race. The Porsche is a great package in long distance races. It's proved itself time and time again," Martin said.
A sentiment Talbot agreed with.
"The goal is nothing but winning the championship. I feel like there is potential with the car. If we look back to as recently as the 12-hour we showed that we can be a winning combination," he said.
"Every person plays a part in the team, and I believe we've got the right combination, so the possibilities are limitless."
Martin will jump back behind the wheel of the MEGA Limited Porsche GT3 for a test day at Phillip Island this Wednesday, before the opening round of the 2017 AEC on May 26-28 at the same venue.