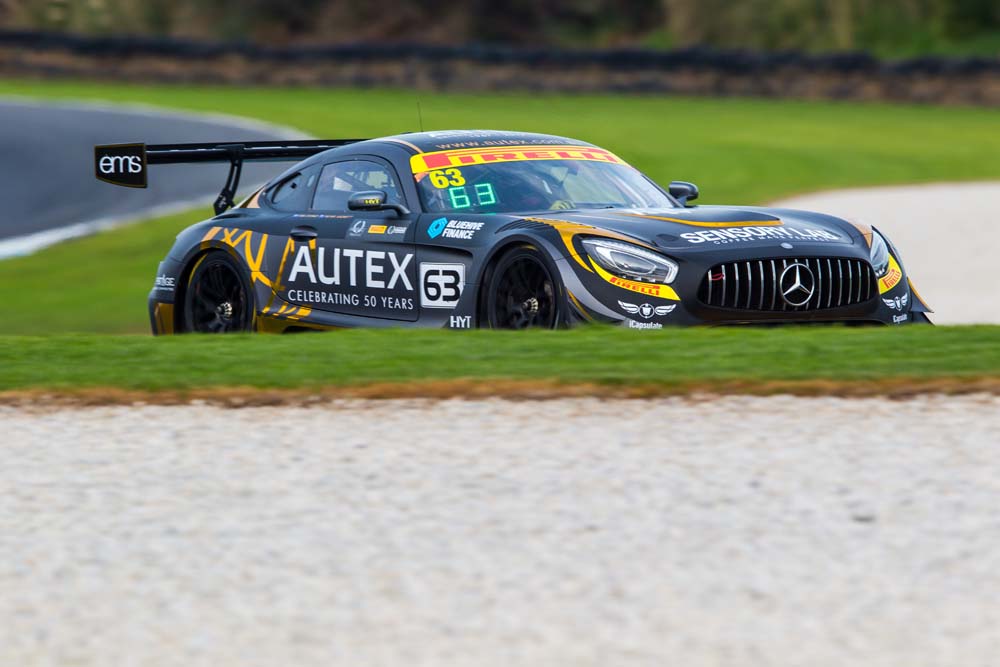 Dominic Storey and Peter Hackett have claimed a maiden pole position ahead of tomorrow's Australian Endurance Championship opener at Phillip Island.
The two Autex Mercedes-AMG GT3 pilots set the fastest combined time in today's two 20-minute qualifying sessions, which will see them start tomorrow's 500km encounter from top spot.
"That was the fastest time I've done around Phillip Island," said Storey.
"There was a little bit left in it, but we opted to pit halfway through the session and call it.
"I knew Pete would do a fantastic job, so I left it up to him to try and snag the pole."
"It's incredible close," added Hackett.
"There's four different manufacturers in the top four places within five tenths.
"It was literally down to who put it a little bit more on the line today."
Pushing the Mercedes duo hard was the Mega Racing Porsche 911 GT3-R driven by Liam Talbot and John Martin, the two leading contenders split but just 0.2s on the grid.
Martin set a strong time in his session to leave the car inside the top ten, before Talbot put the #911 car second fastest in his 20-minute hit out.
Third place went to Garth Tander and Geoff Emery in the Valvoline Jamec Pem Racing Audi R8 LMS, their time 0.1s off that of the Martin/Talbot combination and just 0.04s ahead of Roger Lago and David Russell in the JBS Australia Lamborghini.
Russell set the fastest time of anybody in his qualifying session, lapping the Phillip Island circuit in 1:26.950 to hold out Greame Smyth in Qualifying 1.
Smyth and Edwards combined for the tenth best time in the Maranello Motorsport Ferrari 488 GT3, the second turbo-charged car on the grid.
James Bergmuller and Steve Richards in the BMW M6 GT3 claimed that honour, the BMW Team SRM entry the eighth fastest around the 4.445km Phillip Island circuit.
Max Twigg and Tony D'Alberto in fifth place headed a tightly packed group of five cars split by little more than half a second.
Behind the Twigg/D'Alberto WM Waste Management Services Mercedes was Jaxon Evans and Tim Miles in the #75 Valvoline Jamec Pem Racing entry.
Their Audi stable-mates Ash Samadi and Chris Pither then set the combined seventh fastest time followed closely by the Richards/Bergmuller BMW.
In ninth place was Glen Wood and Peter Major in the M Motorsport Lamborghini R-EX, their best of 1:29.115 barely half a second adrift of fifth placed Twigg and D'Alberto.
Just 1.6 seconds covers the next eight cars making for a competitive field of GT3 representing seven of the world's leading automotive brands.
For Storey and Hackett, the result marks their first pole position together, and Hackett's first since the 2011 Sandown round of the Australian GT Championship.
Facing a gruelling 500km race tomorrow, the veteran racer however isn't getting ahead of himself.
"For 500km it's not about the tenth of a second at the end of it, it's about having a car that gives you the ability to fight all day," Hackett reasoned.
"We put our heads together and said we need to do to be in this position with this much time to go and make sure the car is ready for (Storey) with an hour to go."
Tomorrow's 500 kilometre enduro kicks off at 13:40, with a short warmup session at 11:00 offering teams and drivers a final chance to fine tune their cars ahead of the race.
Every lap will be broadcast free across the globe via a live stream, which will be made available on the Australian GT website.