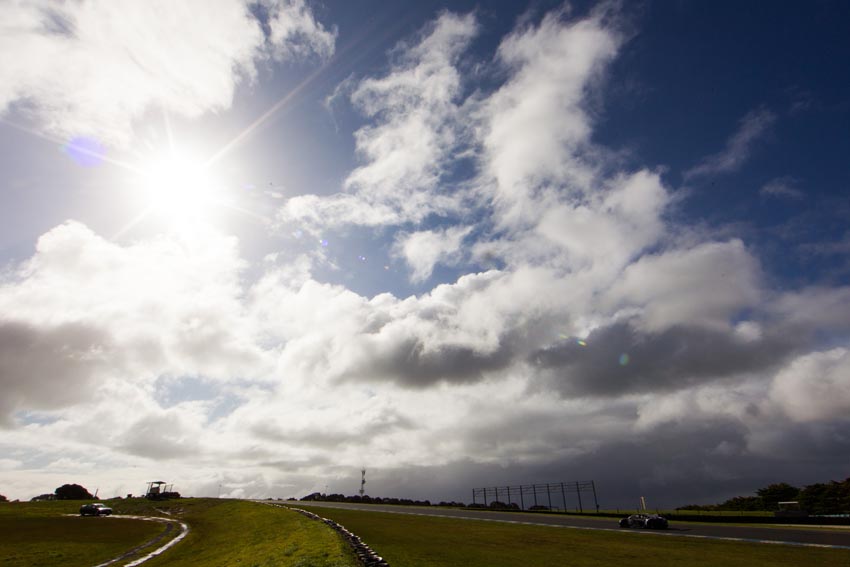 A drama filled opening CAMS Australian GT Trophy Series presented by Pirelli race at Phillip Island has seen Rod Salmon charge to victory in the Skwirk Online Education Audi R8 LMS.
Salmon converted his strong practice and qualifying pace to cross the line first ahead of Wayne Mack (Mack Bros Roofing Products) after 50-minutes of racing, closing the gap to series leader Steve McLaughlan to just 33-points in the process.
McLaughlan had led the race early in the Valvoline Jamec Pem Racing Audi, before an uncharacteristic spin dropped the pole-sitter down the order.
The incident also allowed Travers Beynon (Travers Beynon Racing) through to the lead, Beynon having demonstrated impressive pace throughout qualifying to start third before racing clear with McLaughlan and Salmon in the early laps.
Once out front, Beynon was impervious to the relentless pressure applied by Salmon as the duo raced towards their pit stops, with Salmon falling 18-second off the back of the race leader through the pit cycle.
However, it was not to be for Beynon, who spun out of the race in the closing laps, handing victory to Salmon with Mack in second.
Mathew Turnbull rounded out the podium, the Fire Rating Solutions Lamborghini completing much of the race without a bonnet after it worked its way loose at the start of lap two.
Mack stormed through the field in the opening laps after starting rear of grid, before gaining further places during the pit stop sequence to emerge in the wheel tracks of Salmon.
Heading the Challenge Modern class was Mark Griffith, who ended the race tenth overall in the Griffith Corporation Ferrari F430 GT3, claiming maximum class points following qualifying.
Griffith headed home Scott Hookey (Fiorano Motorsport) and the Aranik Racing duo of Jamie Arratoon and John Nikolovski, while John Goodacre (Gap/SEKTOR) took out MARC Class and Justin McMillan claimed the GT4 class in the Interlloy M Motorsport KTM X-Bow.
Victory for Salmon, coupled with two strong performance in qualifying, saw the Skwirk Online Education entry take 118-points from Saturday, while points leader McLaughlan could only manage 50.
It sees the title battle close to just 33-points, with Richard Gartner also making ground following a solid fifth place in today's race.
Salmon will now start tomorrow's race from pole position, with Mack joining him on the front row, while McLaughlan will take the green flag from the fourth row, setting up a thrilling climax to the weekend.
Race 2 gets underway at 1035 and will be broadcast live and free online via the Australian GT website (www.australiangt.com.au).
| | | | | | |
| --- | --- | --- | --- | --- | --- |
| Pos | Competitor/Team | Driver | Vehicle | Laps | Race Time |
| 1 | Skwirk Online Education | Rod Salmon | Audi R8 LMS Ultra | 21 | 42:08.919 |
| 2 | Mack Bros Roofing Products | Wayne Mack | Ferrari 458 GT3 | 21 | 42:12.284 |
| 3 | Fire Rating Solutions | Mathew Turnbull | Lamborghini Gallardo | 21 | 42:13.238 |
| 4 | Southern Star Developments | Rob Smith | Audi R8 LMS Ultra | 21 | 42:14.391 |
| 5 | Safe-T-Stop | Richard Gartner | Lamborghini Gallardo | 21 | 42:15.450 |
| 6 | CCC Polished Concrete | Rick Mensa | Audi R8 LMS | 21 | 42:16.524 |
| 7 | JJA Consulting | Jan Jinadasa | Lamborghini Gallardo | 21 | 42:17.724 |
| 8 | Valvoline Jamec Pem Racing | Steve McLaughlan | Audi R8 LMS Ultra | 21 | 42:18.489 |
| 9 | Gap Solutions/SEKTOR | John Goodacre | Marc Focus V8 | 21 | 42:19.628 |
| 10 | Griffith Corporation | Mark Griffith | Ferrari F430 | 21 | 42:20.027 |
| 11 | Whitlock Bull Bars | Con Whitlock | Audi R8 LMS | 21 | 42:22.773 |
| 12 | M Motorsport Interlloy | Justin McMillan | KTM X-Bow | 21 | 42:23.610 |
| 13 | Fiorano Motorsport | Scott Hookey | Ferrari 458 Challenge | 21 | 42:25.087 |
| 14 | Eat Furniture | Rio Nugara | Audi R8 LMS Ultra | 20 | 42:11.631 |
| 15 | Aranik Racing | Jamie Arratoon | Ferrari 458 Challenge | 20 | 42:21.328 |
| 16 | Travers Beynon Racing | Travers Beynon | Audi R8 LMS | 18 | 42:26.788 |
| DNF | Kentucky Fried Chicken | Gary Higgon | Audi R8 LMS Ultra | 17 | 31:16.294 |