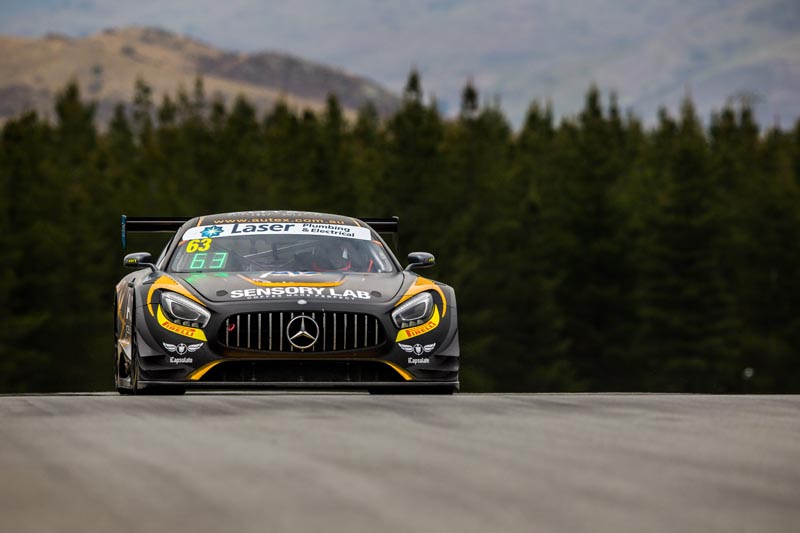 An emotional Peter Hackett and Dominic Storey were crowed CAMS Australian Endurance Champions after finishing sixth at the Highlands 501, the final round of the 2017 season.
Their day was action-packed, leading the race before late drama threatened their Championship hopes in a nail-biting finale to the season.
For Hackett, the title marks the culmination of more than a decade's toil, having come within touching distance of an Australian GT title on multiple occasions only to have it slip out of his grasp.
"That's pretty special; Australian Formula 3, Formula Holden, or Formula 4000 as it was, and now Australian GT, that's got a nice ring to it," said an emotional Hackett.
"I didn't see that coming," he added of the roller-coaster race which saw race leader Storey limp the Autex Eggleston Motorsport Mercedes-AMG GT3 to the pits with six laps to go.
Needing only to finish to be crowned champions, it made for an agonising few moments which threatened to rob Hackett of the title once more.
"When it comes through the pits that Dom has a loose wheel, and that was a really good assessment, your focus just goes from 'we're going to win the race' to 'let's survive'.
"You're never complacent because it's never real, but you go from a position of relative comfort to complete survival.
"Watching the team instinctively react, as champion teams do, was inspiring."
Hackett had handed the car to Storey from the lead, after extending a more than 20-second advantage at the head of proceedings in the opening stint of the race.
Storey then held on out front despite a number of safety cars eradicating his lead, until a camber bolt threatened to end his race just six laps from the flag.
"At that moment I thought it was all over," recounted Storey.
"The boys did what they could; the issue wasn't fixed but it made the car safe enough to get the car back around and finish the race under its own power.
"It's actually my first car championship," he added.
"I always wanted to do one thing, and that was win a championship; I've now won the Australian Endurance Championship.
"I'm so rapt, I can't thank everyone enough – there's so many people I want to thank, including my family, but mainly my sponsors and Eggleston Motorsport.
"They've stuck by Pete and I for the last two years.
"We knew it was possible but there were a couple of things along the way that we thought weren't going to allow us to win the championship.
"So, we came to New Zealand and we were like 'we're going to win both those races'. We nearly did, but we got the championship.
"I actually don't know how I feel, I'm quite emotional about it at the moment!"
Hackett and Storey started their 2017 campaign in strong form, finishing second after racing back from a lap down following a mid-race downpour in the Phillip Island 500 in May.
A tough weekend at Sydney Motorsport Park 500 saw the duo bank valuable points, before going on to win the Laser Plumbing & Electrical Hampton Downs 500 two weekends ago.
Heading into the Highlands 501 they trailed the Valvoline Jamec Pem Racing Audi of Tim Miles and Jaxon Evans by 76-points, clawing back six points during the two qualifying sessions on Saturday.
After the Audi struck trouble late in the race, Storey and Hackett needed only to finish, surviving the nerve-wracking final laps to end the day sixth, sealing their maiden CAMS Australian Endurance Championship.
Australian Endurance Championship Points Standings
Points
Driver
Total
R1
R2
R3
R4
Peter Hackett
660
175
145
190
150
Dominic Storey
660
175
145
190
150
Tim Miles
598
188
228
170
12
Jaxon Evans
598
188
228
170
12
Liam Talbot
480
120
212
137
11
John Martin
480
120
212
137
11
Tony D'Alberto
476
89
12
143
232
Max Twigg
476
89
12
143
232
Tony Quinn
464
63
88
115
198
Adrian Deitz
455
92
110
79
174
Cameron McConville
455
92
110
79
174
Fraser Ross
386
138
113
124
11
Andrew Macpherson
374
59
99
95
121
Brad Shiels
374
59
99
95
121
Mark Griffith
345
114
121
0
110
Geoff Emery
317
129
188
0
0
Andrew Waite
313
0
0
115
198
Roger Lago
255
99
5
0
151
David Russell
255
99
5
0
151
Greame Smyth
253
107
146
0
0
Peter Edwards
253
107
146
0
0
Warren Luff
251
138
113
0
0
Daniel Gaunt
233
72
161
0
0
Kelvin van der Linde
188
0
188
.
0
Matt Halliday
187
0
0
81
106
Andrew Bagnell
187
0
0
81
106
Jonny Reid
183
0
88
95
0
Dylan O'Keeffe
183
0
161
10
12
Jim Manolios
171
77
94
0
0
Ryan Millier
171
77
94
0
0
Steve Richards
161
52
87
10
12
Glen Wood
159
6
0
0
153
Justin McMillan
153
0
0
0
153
James Bergmuller
139
52
87
0
0
Alvaro Parente
135
0
0
124
11
Garth Tander
129
129
0
0
0
Dominik Baumann
121
0
121
0
0
Jake Camilleri
114
114
0
0
0
Scott Hookey
110
0
0
0
110
John Udy
102
0
0
102
0
Matt Whittaker
102
0
0
102
0
Neil Foster
95
0
0
95
0
Matt Stoupas
72
72
0
0
0
Mike Whiddett
72
63
0
0
9
Danny Stutterd
68
68
0
0
0
Sam Fillmore
68
68
0
0
0
Ash Samadi
58
58
0
0
0
Chris Pither
58
58
0
0
0
Shane van Gisbergen
9
0
0
0
9
Peter Major
6
6
0
0
0
Scott Taylor
6
1
5
0
0
Craig Baird
6
1
5
0
0