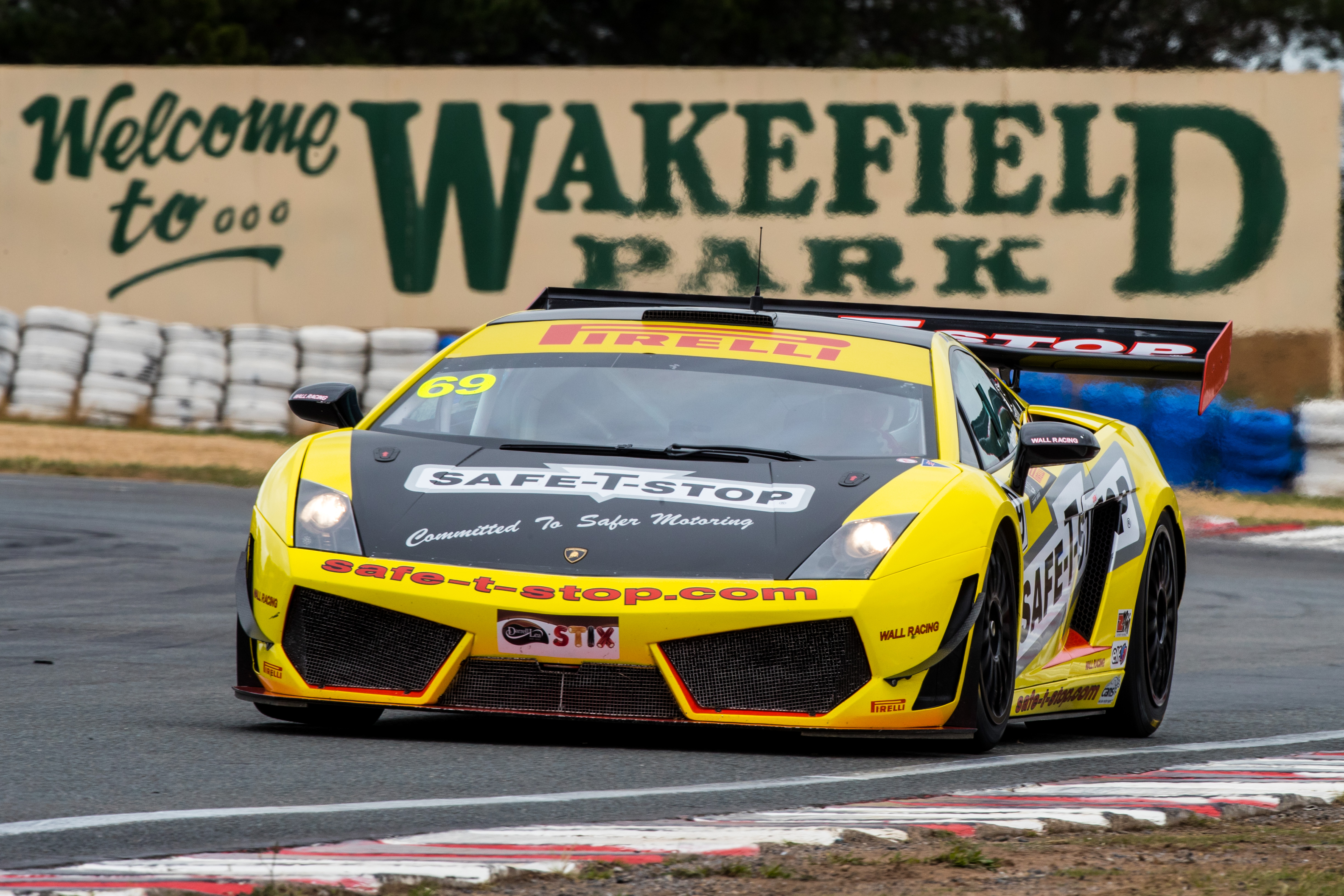 Safe-T-Stop Lamborghini driver Richard Gartner claimed his second pole position of the season with a record-breaking lap ahead of this weekend's season-ending CAMS Australian GT Trophy Series presented by Pirelli round at Wakefield Park.
Gartner emerged on top in qualifying with a 58.495s lap around the 2.2km circuit, shattering the previous qualifying lap record of 1:01.255s set by Greg Crick in 2006.
Having topped the first 20-minute session with a 59.485s lap, Gartner then went almost a second quicker to set the fastest time across both qualifying outings.
It will see the Safe-T-Stop Lamborghini start off the front of the grid for the second time this year, alongside him Steve McLaughlan in the Trophy Class-leading Valvoline Jamec Pem Racing Audi R8 LMS.
McLaughlan set a 58.694s late in the second session to move ahead of title-rival Rod Salmon in the Skwirk Online Education Audi.
The pair were locked together throughout both qualifying sessions, Salmon gaining the upper hand initially before McLaughlan struck back.
Rio Nugara set the fourth fastest time, the only other man to set a time under the 60-second barrier with a 59.753s effort aboard the EAT Furniture Audi.
After struggling with mechanical issues during practice, Wayne Mack bounced back to go fifth fastest in the Mack Bros Roofing Products Ferrari 458 GT3, one place better than Mark Griffith in the leading Challenge Modern class entry.
The Griffith Corporation Ferrari F430 set a 1:00.617s lap in the second session, just bettering the impressive John Goodacre who managed 1:00.724s as he clocked the fourth fastest time in the opening qualifying session.
Rick Mensa (CCC Polished Concrete), Travers Beynon, (Travers Beynon Racing) and Jamie Arratoon (Aranik Racing) rounded out the top ten.
Rain, as the first 20-minute session got underway, saw cars sliding their way around the circuit, before clearing as the session progressed.
The weather then returned in the final moments of Qualifying 2, with all drivers on track electing to abandon their laps rather than take the chequered flag.
Conditions are expected to improve for Sunday's two 50-minute races, which will see champions crowned in three classes.
McLaughlan and Salmon remain just 49-points apart at the top of the Trophy Class, with Griffith now 98-points clear of Arratoon in the Challenge Modern division, and John Goodacre poised to take out the MARC Class title.
The opening race gets underway at 09:15 before the green flag is shown for Race 2 at 12:40 (November 19).
Both races will be streamed live, with fans able to follow every moment of the action via the Australian GT Facebook page, and the Australian GT website.
CAMS Australian GT Trophy Series presented by Pirelli
Round 5 Qualifying Result
| | | | | |
| --- | --- | --- | --- | --- |
| P | Competitor/Team | Driver | Vehicle | Best |
| 1 | Safe-T-Stop | Richard Gartner | Lamborghini Gallardo GT3 | 0:58.495 |
| 2 | Valvoline Jamec Pem Racing | Steve McLaughlan | Audi R8 LMS Ultra | 0:58.694 |
| 3 | Skwirk Online Education | Rod Salmon | Audi R8 LMS Ultra | 0:58.780 |
| 4 | EAT Furniture | Rio Nugara | Audi R8 LMS Ultra | 0:59.753 |
| 5 | Mack Bros Roofing Products | Wayne Mack | Ferrari 458 GT3 | 1:00.288 |
| 6 | Griffith Corporation | Mark Griffith | Ferrari F430 | 1:00.617 |
| 7 | Gap Solutions/SEKTOR | John Goodacre | MARC Focus V8 | 1:00.724 |
| 8 | CCC Polished Concrete | Rick Mensa | Audi R8 LMS | 1:00.846 |
| 9 | Travers Beynon Racing | Travers Beynon | Audi R8 LMS | 1:00.948 |
| 10 | Fiorano Motorsport | Jamie Arratoon | Ferrari 458 Challenge | 1:01.015 |
| 11 | Aranik Racing | John Nikolovski | Ferrari 458 Challenge | 1:01.837 |
| 12 | JJA Consulting Group | Jan Jinadasa | Lamborghini Gallardo GT3 | 1:01.976 |
| 13 | Andrew Clarke | Andrew Clarke | Ginetta G50 | 1:02.915 |
| 14 | Whitlock Bull Bars | Con Whitlock | Audi R8 LMS | 1:04.670 |