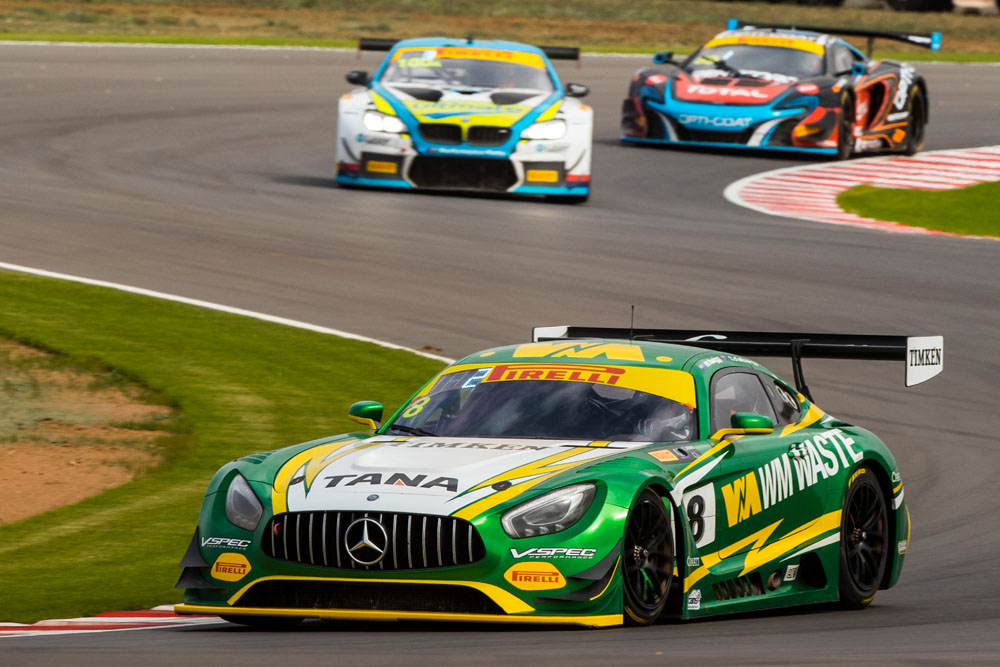 Max Twigg and Tony D'Alberto recorded a record-breaking pole position in Round 2 of the CAMS Australian GT Championship.
The WM Waste Management Mercedes-AMG GT3 claimed pole by just 0.018s over the Hot Wheels Car Care Products Porsche 911 GT3-R, the narrowest pole margin in Australian GT history.
Qualifying used the average time across both sessions, making each drivers' lap critical to determining grid position.
A strong 3:03.970s lap saw D'Alberto end Qualifying 1 second fastest behind Luke Youlden (Aussie Driver Search Mercedes-AMG GT3).
His effort was backed up by Twigg in Qualifying 2, banking a 3:09.966s to end the session third fastest.
Liam Talbot (Hot Wheels Car Care Products Porsche 911 GT3-R) topped the session with a 3:09.019s lap, followed by Peter Hackett (Eggleston Motorsport Mercedes-AMG GT3) with 3:09.513s.
Once combined, it left the pairing with the best time, handing them pole position.
Justin McMillan and Glen Wood snared the fastest GT4 Class time, the Interlloy M Motorsport pairing logging a 3:26.466s.
It left the KTM X-Bow duo ahead of Jeremy Gray and Andrew Miedecke in the JMG/Bilstein Aston Martin Vantage GT4.
Lining up third will be the Yasser Shahin and Luke Youlden driven The Bend Motorsport Park Mercedes, with Hackett and Jake Fouracre fourth in the Eggleston Motorsport Mercedes.
High wind has seen the race rescheduled to Sunday morning, and will take place on the 4.95km International layout.
The race begins at 10:25, with live streaming available via the Shannons Nationals and Australian GT websites.
| | | | | |
| --- | --- | --- | --- | --- |
| Pos | Competitor/Team | Driver | Vehicle | Time |
| 1 | WM Waste Management | Max Twigg/Tony D'Alberto | Mercedes-AMG GT3 | 3:06.968 |
| 2 | Walkinshaw GT | John Martin/Liam Talbot | Porsche 911 GT3-R | 3:06.986 |
| 3 | The Bend Motorsport Park | Yasser Shahin/Luke Youlden | Mercedes-AMG GT3 | 3:07.443 |
| 4 | Eggleston Motorsport | Peter Hackett/Jake Fouracre | Mercedes-AMG GT3 | 3:07.647 |
| 5 | Aussie Driver Search | Jaie Robson/David Reynolds | Mercedes-AMG GT3 | 3:08.064 |
| 6 | BMW Team SRM | Steve Richards/Dean Grant | BMW M6 GT3 | 3:09.696 |
| 7 | Total/Opti-Coat/Logitech | Fraser Ross/Duvashen Padayachee | McLaren 650S GT3 | 3:10.200 |
| 8 | Valvoline | Geoff Emery/Garth Tander | Audi R8 LMS | 3:10.495 |
| 9 | KFC/Ctech Laser/Moveitnet/B&B | Tony Bates/Daniel Gaunt | Audi R8 LMS | 3:11.988 |
| 10 | Objective Racing | Tony Walls/Warren Luff | McLaren 650S GT3 | 3:13.495 |
| 11 | Scott Taylor Motorsport | Scott Taylor/Craig Baird | Mercedes-AMG GT3 | 3:14.926 |
| 12 | Mriani Beef Jerky | Tony Quinn/Shane van Gisbergen | McLaren 650S GT3 | 3:15.078 |
| 13 | Timken Zagame Motorsport | Adrian Deitz/Cameron McConville | Lamborghini Huracan | 3:15.726 |
| 14 | Ah Apartments | Ash Samadi/Dylan O'Keeffe | Audi R8 LMS | 3:23.876 |
| 15 | Interlloy M Motorsport | Justin McMillan/Glen Wood | KTM X-Bow | 3:26.466 |
| 16 | JMG Bilstein | Jeremy Gray/Andrew Miedecke | Aston Martin Vantage GT4 | 3:30.175 |
| 17 | Hogs Breath Café/Griffith Corporation | Mark Griffith | Ginetta G55 GT4 | 3:34.130 |
| 18 | Interlloy M Motorsport | David Crampton/Trent Harrison | KTM X-Bow | 3:35.714 |
| 19 | Haemokinesis/Trofeo Estate/FreeM | Jim Manolios/Dean Canto | Lamborghini Huracan | |