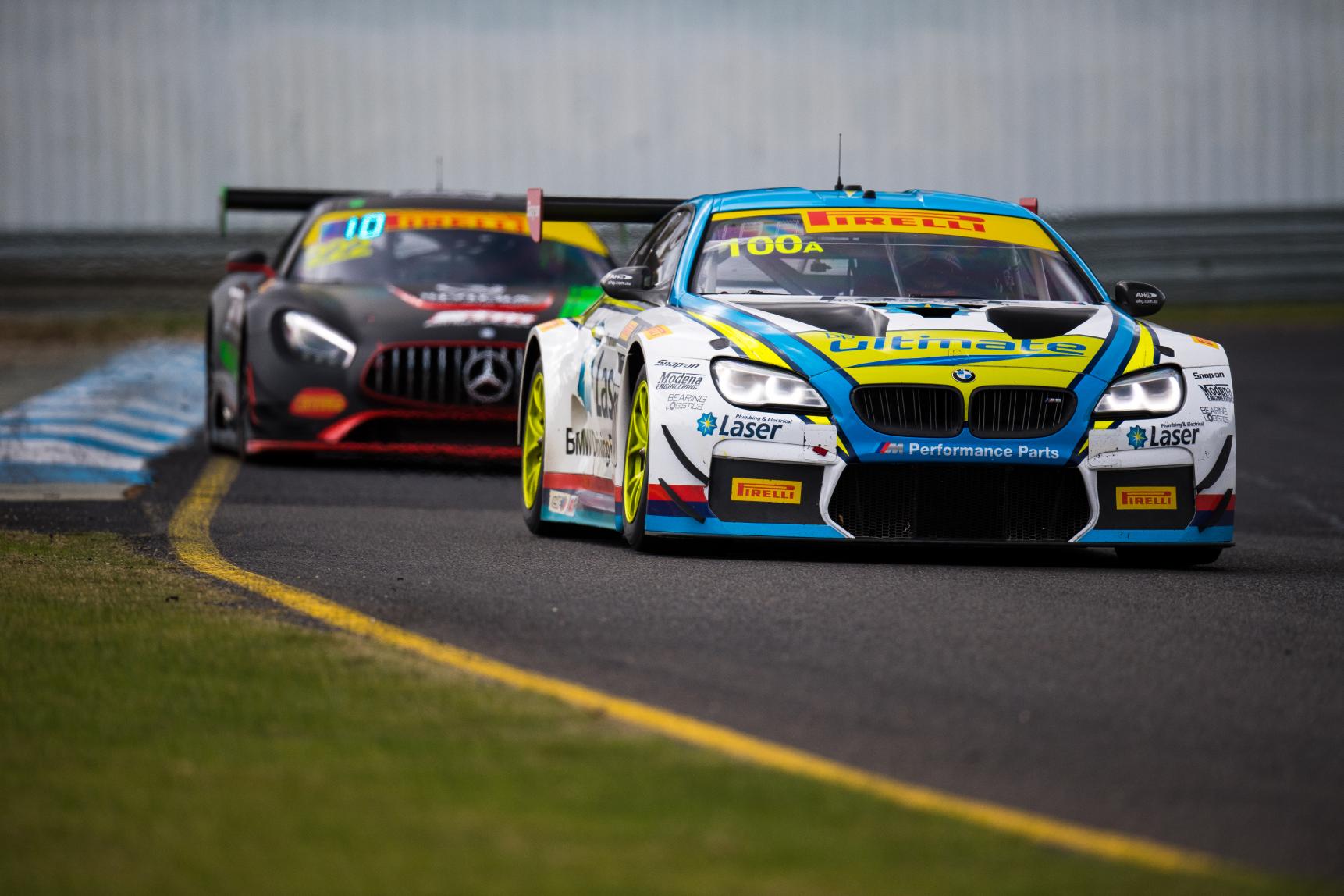 BMW Team SRM has had a decidedly mixed meeting, running the BMW M6 GT3 in the third round of the Australian GT Championship.
Enticingly, team leader Steve Richards paired with young up-and-comer Ricky Capo for the first time, in what would prove to be a solid driving squad.
The factory-backed BMW Team SRM's M6 GT3 development programme bore immediate fruit with a fifth-fastest in Friday's weather-affected initial practice session.
Prospects took a further upswing during Saturday, with Steve Richards lapping the 3.1km layout in only 1:10.66 – good enough for second fastest in the first qualifying effort.
Next, it was Ricky Capo's time to shine. In his first-ever qualifying attempt aboard the BMW M6 GT3, Capo impressed with a strong 1:11.16, the eighth-fastest driver in his session. With combined qualifying timing taken into account, the promising pairing placed seventh overall.
Saturday's first 40-minute race commenced in early-evening light. Richards and Capo were among the fastest group, making the most of the BMW M6 GT3's 4.4-litre twin-turbocharged V8 power and high-speed stability. Setting the second-fastest race lap, they finished in seventh position overall.
Sunday morning's second 40-minute race saw the leaders complete 31 laps, and the BMW M6 GT3 proved more than capable of lapping in the 1:10 bracket dictated by the front runners. Richards ran a comfortable sixth place in the early going, filtering up to second place as the pit window opened.
Handing over to Capo during the compulsory pit stop, the car was placed in 12th before a spin dashed hopes of a further climb up the field. It also thwarted any chance of a strong starting position for Sunday afternoon's finale.
Not to be deterred, the crew was able to climb to 13th place and the last pairing to finish on the lead lap, with top six lap speed still evident even in the traffic.
"Our weekend was ok," said BMW Team SRM lead driver, Steve Richards.
"We raced at Sandown last year and the car was a struggle but we've improved it; it's always going to be a tricky track for our car as it doesn't have too many of its strengths here.
"I'm really happy with how the team went. For the most part the car was competitive; we had a couple of instances during pit stop that caught us out.
"Phillip Island is the next round and we're looking forward to that. It's always important, particularly when you've got tight turnarounds, that the car comes back unscathed and you can go through a normal preparation process.
"Hopefully we can head to Phillip Island with a strong driver line-up and with a bit of luck we can have Ricky there driving with us again," he said.
Ricky Capo's debut in the BMW M6 GT3 highlighted the differences between the latest BMW GT3 beast, after his extensive BMW Z4 GT3 experience.
"The car was relatively competitive and it was a lot to get used to, especially with the different weather conditions, he said.
"The car is very different to the Z4, in almost every single way. I wasn't carrying much knowledge across from the Z4 into the M6 so it was just like learning a new car, to be honest.
"I tried to get my bearings as much as I could in practice on Friday however it was quite wet. I learnt where all of the buttons were but in terms of performance I couldn't really tell until qualifying.
"We had a bit of bad luck as well, I had a spin in race two and I think we paid for that in the final race. We were faster than a lot of the cars in front of us but it was difficult to pass on a track like this.
"The car, I think we made some good progress with it. We tried some things that worked and others that didn't, so I think the team will have some good information to carry into the next round.
"Overall I've had a really good time and being teamed up with 'Richo' has been such an experience, I've always looked up to him, so sharing a car with him has been amazing and looking at data and footage with him has been really cool.
"I'd love to come back to the GT Championship so I will have to speak to Richo and my team and hopefully I'll be back," he said.
The next round of the Australian GT Championship will be at Phillip Island, on the first weekend of June.