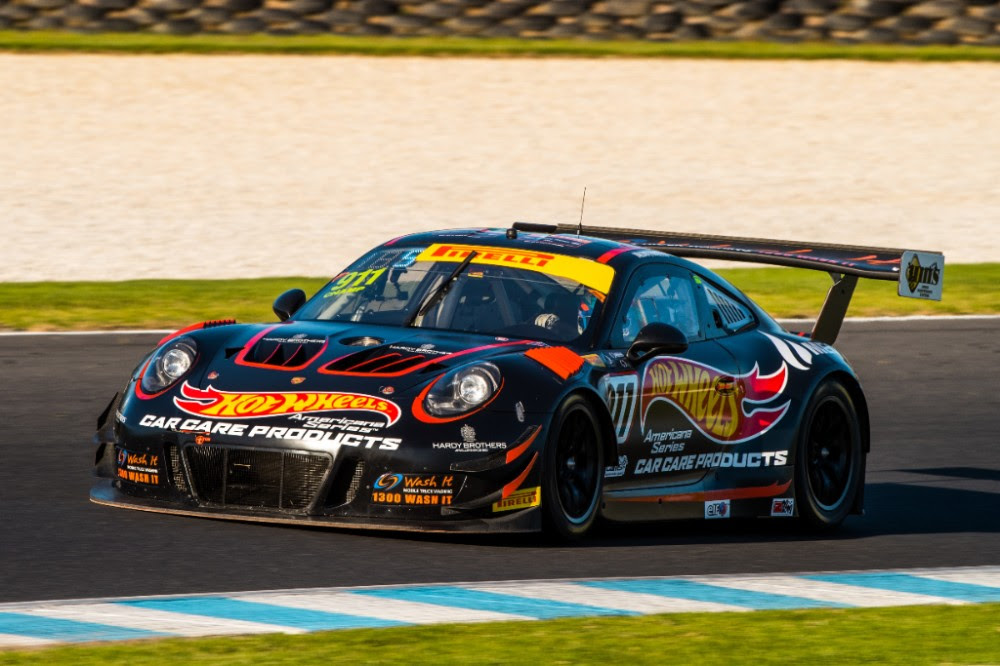 Liam Talbot and John Martin will start their Hot Wheels Car Care Products Porsche 911 GT3 R from pole position following today's two-part CAMS Australian GT Championship qualifying for the Phillip Island 101.
Martin recorded the second fastest time in Qualifying 1, before Talbot backed up the 1m 27.170s effort with his own 1m 28.718s lap, giving the pair an aggregate qualifying time of 1m 27.944s.
It proved 0.2s faster than the BMW Team SRM duo of Steve Richards and Michael Almond, after a stunning lap from Almond saw the M6 GT3 top Qualifying 2 with a 1m 28.505s.
Row two is an all-Audi affair, with Geoff Emery and Garth Tander third in the Valvoline entry alongside Tony Bates and Daniel Gaunt in the KFC/Ctech Laser/Moveitnet/B&B Audi R8 LMS.
With the event doubling as Round 2 of the CAMS Australian Endurance Championship, points leaders Max Twigg and Tony D'Alberto will start seventh in the WM Waste Management entry.
A stunning lap from Dylan O'Keeffe saw the Ah Apartments entry fastest in Qualifying 1, 0.02s up on Martin, the Audi R8 LMS O'Keeffe is sharing with Ash Samadi on the fourth row alongside the Twigg/D'Alberto Mercedes-AMG GT3.
Heading the GT4 class is the JMG/Bilstein Aston Martin Vantage GT4 of Jeremy Gray and Andrew Miedecke, their combined 1m 38.432s lap edging the all-American pairing of Daren Jorgensen and Brett Strom in the RHC Jorgensen-Strom by MARC Cars BMW M4 GT4.
Missing the session was the McElrea Racing run YNA Autosport entry of Shane van Gisbergen and Duvashen Padayachee.
The McLaren 650S GT3 suffered a surprise oil drive failure in what was a new engine, though the team has worked to repair the car which is set to take the race start.
The Phillip Island 101, Round 4 of the CAMS Australian GT Championship, is scheduled to begin at 1320 tomorrow afternoon (June 3).
The race will be streamed live and uninterrupted online at www.australiangt.com.au/live with additional behind the scenes content throughout the day across Australian GT's social media platforms.
Fans are encouraged to get involved with questions, comments and photos, using the hashtag #AustralianGT

Result: CAMS Australian GT Championship, Round 4, Qualifying*
| | | | | |
| --- | --- | --- | --- | --- |
| Pos | Competitor/Team | Driver | Vehicle | Time |
| 1 | Walkinshaw GT3 | Liam Talbot/John Martin | Porsche 911 GT3 R | 1:27.944 |
| 2 | BMW Team SRM | Steve Richards/Michael Almond | BMW M6 GT3 | 1:28.132 |
| 3 | Valvoline | Geoff Emery/Garth Tander | Audi R8 LMS | 1:28.189 |
| 4 | KFC/Ctech Laser/Moveitnet/B&B | Tony Bates/Daniel Gaunt | Audi R8 LMS | 1:28.287 |
| 5 | Eggleston Motorsport | Peter Hackett/Jake Fouracre | Mercedes-AMG GT3 | 1:28.454 |
| 6 | Total Oil/Opti-Coat/Boost Mobile | Fraser Ross/Jaxon Evans | McLaren 650S GT3 | 1:28.648 |
| 7 | WM Waste Management | Max Twigg/Tony D'Alberto | Mercedes-AMG GT3 | 1:28.747 |
| 8 | Ah Apartments | Ash Samadi/Dylan O'Keeffe | Audi R8 LMS | 1:29.061 |
| 9 | The Bend Motor Sport Park | Yasser Shahin/Luke Youlden | Mercedes-AMG GT3 | 1:29.171 |
| 10 | Wall Racing | Adrian Deitz/Cameron McConville | Lamborghini Huracan GT3 | 1:29.324 |
| 11 | International Motorsport | Andrew Fawcet/Jonny Reid | Audi R8 LMS | 1:29.461 |
| 12 | Scott Taylor Motorsport | Scott Taylor/Craig Baird | Mercedes-AMG GT3 | 1:29.473 |
| 13 | Objective Racing | Tony Walls/Warren Luff | McLaren 650S GT3 | 1:30.118 |
| 14 | Mariani Beef Jerky | Tony Quinn/Grant Denyer | McLaren 650S GT3 | 1:31.193 |
| 15 | LOCAL Search by MARC Cars | Adam Hargraves/Daniel Jilesen | MARC Mazda V8 | 1:35.203 |
| 16 | JMG/Bilstein | Jeremy Gray/Andrew Miedecke | Aston Martin Vantage GT4 | 1:38.432 |
| 17 | RHC Jorgensen – Strom by MARC Cars | Daren Jorgensen/Brett Strom | BMW M4 GT4 | 1:38.813 |
| 18 | Forum Group/M Motorsport | Vince Tesoriero/Glen Wood | KTM X-Bow GT4 | 1:39.066 |
| 19 | Hogs Breath Café/Griffith Corporation | Mark Griffith/Rio Nugara | Ginetta G55 GT4 | 1:40.234 |
| 20 | Vantage Freight/M Motorsport | David Crampton/Trent Harrison | KTM X-Bow GT4 | 1:40.764 |
| 21 | YNA Autosport | Duvashen Padayachee/Shane van Gisbergen | McLaren 650S GT3 | |
*Results are provisional