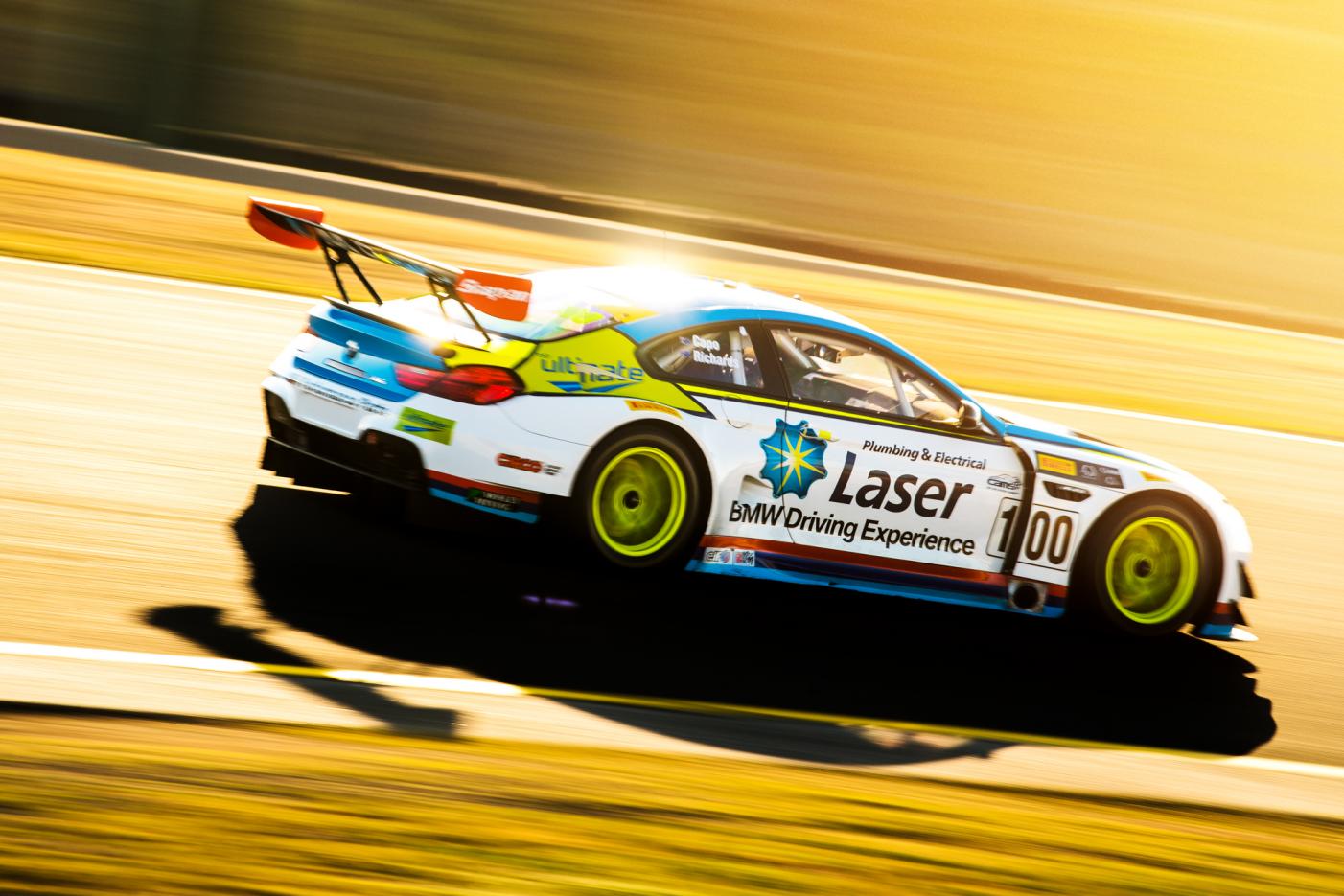 BMW Team SRM came away from Sydney Motorsport Park with a trio of Top 10 results in the fifth round of the Australian GT Championship. This was despite a penalty and a poorly-timed Safety Car making life difficult for Steven Richards and Ricky Capo.
The factory-backed squad made a perfect start to the event, Richards putting the #100 M6 GT3 on top of the times in the sole practice session.
He and Capo then combined to put the factory-backed BMW second on the grid for Race 1, Richards second fastest in his session before Capo went sixth during his stint.
Race 1 proved beyond doubt that car's genuine speed, Richards comfortably running second across the first stint before pitting to hand over to Capo midway through the 40-minute race.
A long compulsory pitstop time dropped the BMW outside the Top 10, Capo putting in a storming drive to charge his way back to sixth, including a last-lap pass on Ryan How.
That sixth was later turned into eighth in the final classification, thanks to a 10-second post-race penalty for contact with Tony Bates during the second stint.
Race 2 saw another aggressive stint from Capo, the former open-wheeler star charging his way to sixth in the opening section. Again the compulsory stop left Richards outside the Top 10 for the final stint, the four-time Bathurst 1000 winner quickly making ground to move into ninth as he looked set to change back through the field.
However a poorly-timed Safety Car soaked up the final 10 minutes of the race, and meant Richards couldn't make up any more ground.
Richards had to wait until Race 3 to continue his charge, running as high as sixth in the first stint of the Saturday afternoon finale.
Capo then battled his way to sixth in the final section to cap off an impressive weekend for the #100 BMW.
"That's the best we've ever qualified, so that's a good sign, and our car was very strong in the first and third sectors all weekend," said Richards.
"In the sprint format we're always going to be a disadvantage in our driver seeding when it comes to the compulsory pitstops. But we were able to recover reasonably well in all three races, so you can see the gains we've made this year. We're improving, we're still well-placed in the championship. We're going into the last round with a chance."
Capo, making just his second start with the team, said he enjoyed building a sense of familiarity with the M6 GT3.
"The weekend went well," said Capo. "It's always hard when you go into a technical track like this and only have 10 or 15 minutes to practice, so I think we can be happy with our race and qualifying pace.
"We made some gains in terms of speed which is positive, and by the end of the weekend I was really starting to feel comfortable in the car. More laps would always be better, but that's how it is with a two-day event like this.
"I've enjoyed my time with the team, it's been great. I hope I can get back for more rounds next year."
Richards now sits third in the standings, 37 points behind leader Fraser Ross with one round remaining.
The season concludes with an endurance race at Hampton Downs in New Zealand on October 13-14.