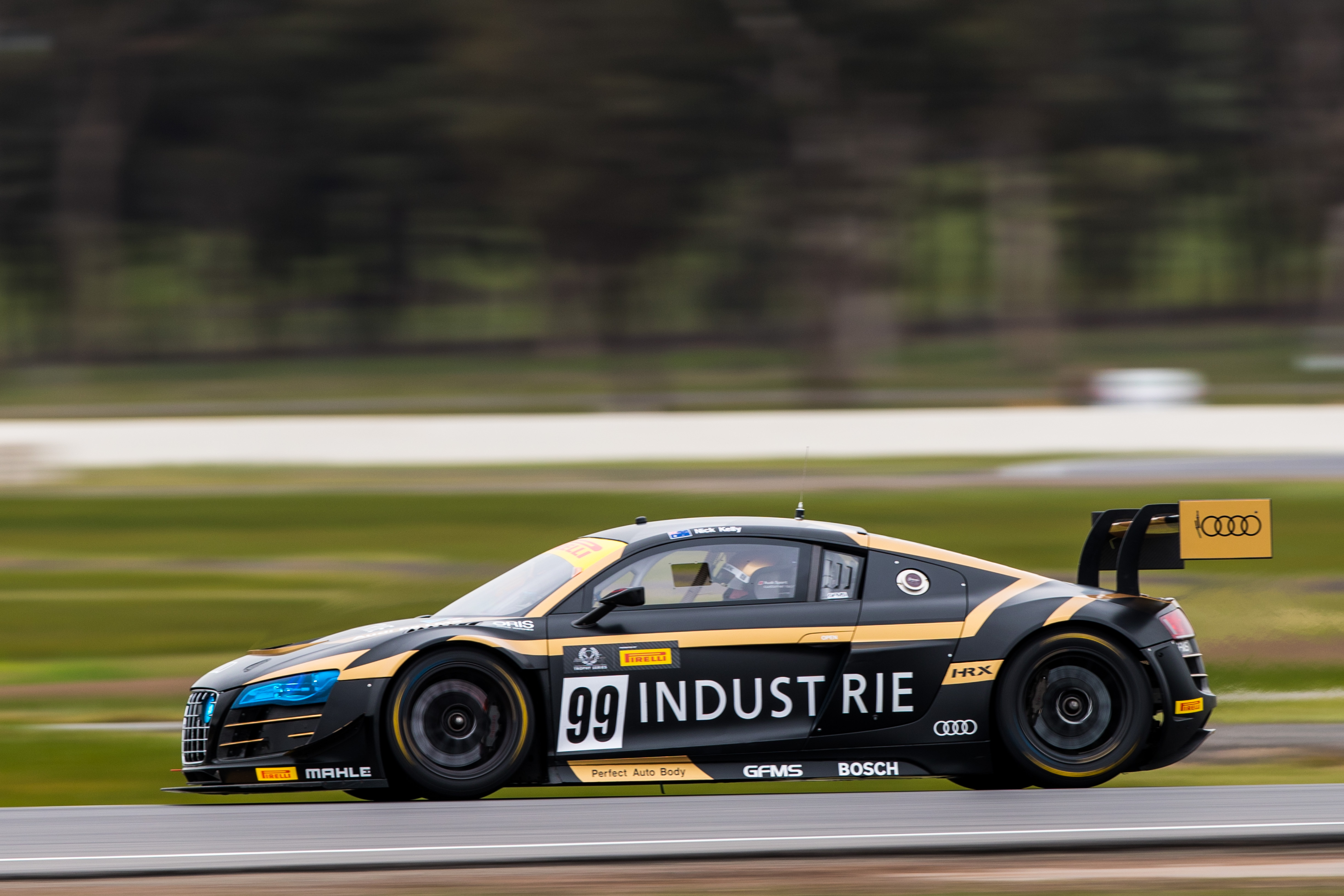 A stunning lap in Qualifying 2 has seen Nick Kelly claim pole position ahead of the final round of the CAMS Australian GT Trophy Series at Winton this weekend.
Kelly set the pace in the opening session to take provisional pole, the Industrie Audi R8 LMS Ultra GT3 driver then improving by nearly half a second to stamp his authority on the grid in the second half of the two-part session.
He'll be joined by Matt Stoupas (Kentucky Fried Chicken Audi R8 LMS Ultra GT3) on the front row after the Victorian ace proved second fastest.
This weekend marks Kelly's first appearance at Winton in well over a decade, and the first time he's sampled anything like the performance of the Audi R8 LMS Ultra GT3 on the rural Victorian circuit.
"Winton has a character and charm about it," Kelly enthused after claiming pole position.
"It's very demanding and you need to be disciplined to get a fast lap.
"There's no other track like it in Australia; Turns 1 and 2 are a bit like the Grand Prix, Turn 3 has a bit of camber, and there's nothing like the top section of the circuit anywhere else."
On debut in the Trophy Series, Scott Taylor piloted his Porsche 911 GT3 R to third fastest, edging out Dave Stevens in the Brennan IT Ferrari 458 GT3 by 0.4s.
Rio Nugara chalked up more crucial points in his quest for the series title as he qualified the EAT Furniture Audi R8 LMS Ultra GT3 fifth quickest, ahead of the Siedler Group Porsche 911 GT3 Cup Car of Chris and Luke Seidler.
The two-part qualifying session saw times tumble throughout the opening 20-minute phase, before Kelly banked his impressive 1:20.594s lap towards the end of Qualifying 2.
Importantly, having been fastest in both sessions, Kelly picked up a maximum 20 points, ten for each session, taking his advantage out to 36 points.
However, there remain 100 points on offer for each of Sunday's two 50-minute races, which will include compulsory pit stops.
The top three in the title fight are split by just 40 points, leaving Kelly (707pts) with no breathing room as both Stoupas (671pts) and Nugara (667pts) look to chase him down in a thrilling climax to the 2018 CAMS Australian GT Trophy Series.
Both races will be streamed live and uninterrupted online via the Australian GT website, with the opening race at 0930 on Sunday morning before the title decider at 1225.

| | | | | |
| --- | --- | --- | --- | --- |
| Pos | Competitor/Team | Driver | Vehicle | Best |
| 1 | Industrie | Nick Kelly | Audi R8 LMS Ultra GT3 | 1:20.594 |
| 2 | Kentucky Friend Chicken | Matthew Stoupas | Audi R8 LMS Ultra GT3 | 1:21.047 |
| 3 | Scott Taylor Motorsport | Scott Taylor | Porsche 911 GT3 R | 1:21.494 |
| 4 | Brennan IT | Dave Stevens | Ferrari 458 GT3 | 1:21.863 |
| 5 | EAT Furniture | Rio Nugara | Audi R8 LMS Ultra GT3 | 1:22.570 |
| 6 | Siedler Group | Luke Seidler/Chris Seidler | Porsche 991 GT3 Cup Car | 1:24.719 |