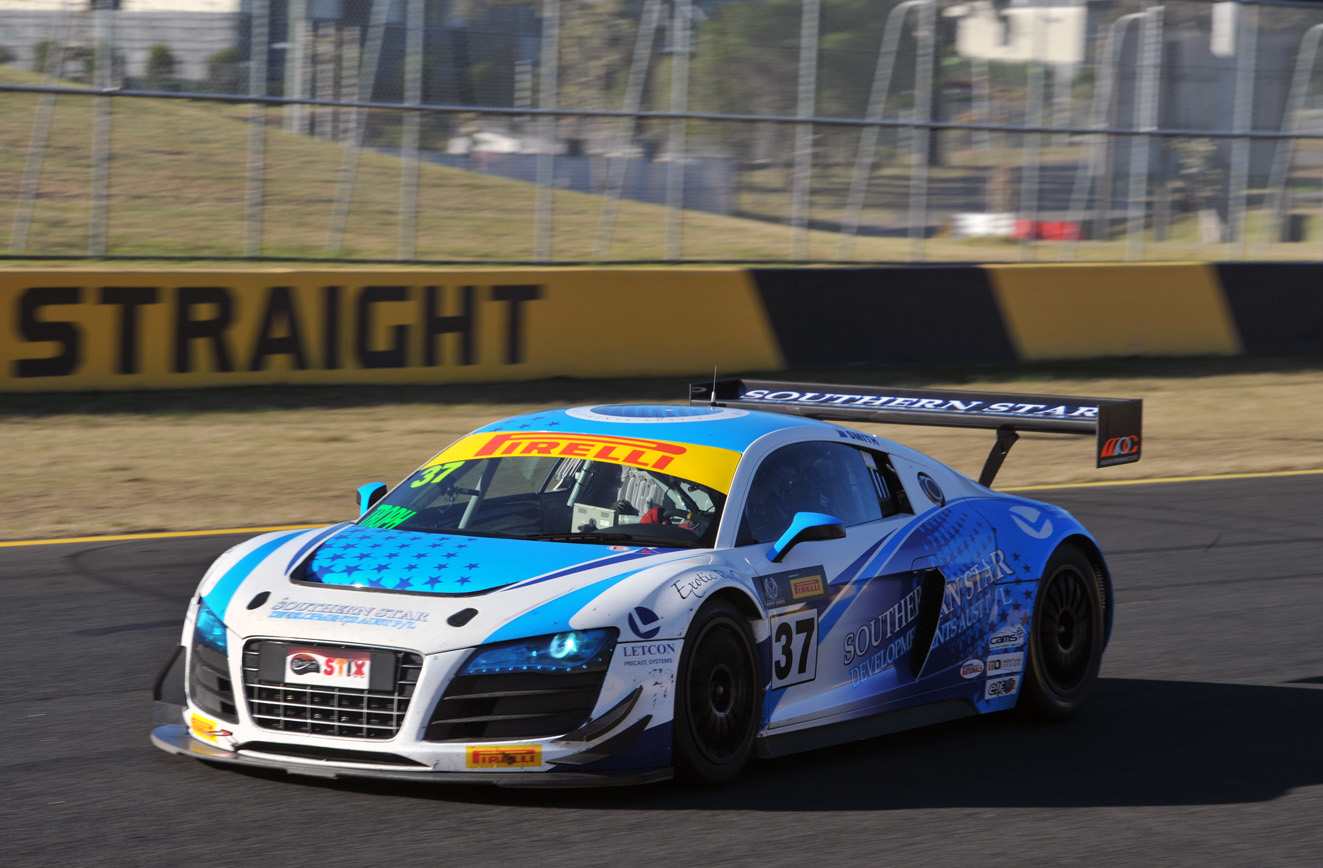 A competitive field representing the world's most exotic automotive brands heads to Queensland Raceway this weekend (July 29-31) for Round 5 of the CAMS Australian GT Trophy Series presented by Pirelli.
Ferrari, Porsche, Lamborghini, Audi and a fleet of six entries from MARC Cars Australia will be on track as Australian GT makes its first appearance at Queensland Raceway since 2013.
Fresh from a strong performance at Sydney Motorsport Park, and with 210 points up for grabs this weekend, Rob Smith will be looking for a hefty haul of points as he seeks to chase down points leader Greg Taylor and set up a nail-biting Series finale at the final round of the season at Phillip Island in September (9-11).
Smith, aboard his Southern Star Developments Audi R8 LMS will face stern opposition from CAMS Australian GT Championship regular Mark Griffith, who will be reunited with his own Audi R8 LMS for the weekend.
With more than 20 CAMS Australian GT Championship round starts to his name, it will be the first appearance the Hogs Breath Café/Griffith Corporation driver in the CAMS Australian GT Trophy Series presented by Pirelli.
Battling the two Audi's around the 3.12km Queensland Raceway will be Jan Jinadasa in his JJA Consulting Group Lamborghini Gallardo, who will be keen to capitalise on Lamborghini's strong success at Queensland Raceway; the Italian marque having won five of the ten Australian GT races held at the circuit.
A six-pronged MARC Cars Australia attack will feature four MARC Focus V8s and a pair of Mazda V8s, with Jake Camilleri again at the wheel to spearhead the Queensland-based team's effort.
He'll be supported by Jack Smith, who put in a starring performance at Sydney Motorsport Park to claim an overall podium in both races and class victory in Round 3 of the Series.
Michael Benton will make his first appearance since the opening round of the Series at Sandown in April while Sam Gerrard and Jason Busk will once again combine forces.
The experienced Keith Kassulke rounds out a strong MARC Cars Australia lineup, the Brisbane local taking the wheel of a MARC Focus V8 for the weekend.
The scarlet red Ferrari 458 Challenge of Scott Hookey will take on the Brendan Cook and Ockert Fourie's KPH Racing/OLOF Family Cosmetic Dental Spa Porsche GT3 Cup car in the Challenge Class.
Just 62-points split Fourie and Hookey in the class standings heading into the weekend, making it a critical weekend for the title ambitions of both drivers.
The CAMS Australian GT Trophy Series presented by Pirelli heads out on track on Friday with opening practice at 13:30.
A second practice session at 11:05 on Saturday morning will give drivers their last chance to get their eye in ahead of a 30-minute qualifying at 14:15.
Sunday starts with the first of two 50-minute races at 10:35 ahead of the second race at 14:00, with both streamed live online via the Australian GT website – www.australiangt.com.au
Entry List
No
Class
Sponsor
Drivers
Make
Model
12
Challenge
KPH Racing / OLOF Family Cosmetic Dental Spa
Brendan Cook
Porsche
GT3 Cup Car MY09
Ockert Fourie
19
Trophy
Hogs Breath Café / Griffith Corporation
Mark Griffith
Audi
R8 LMS 2011
33
Challenge
Exotic Track Days
Scott Hookey
Ferrari
458 Challenge
37
Trophy
Southern Star Developments
Rob Smith
Audi
R8 LMS 2011
43
Trophy
Hogs Breath Café / Griffith Corporation
TBA
Ferrari
F430 GT3
77
Trophy
JJA Consulting Group
Jan Jinadasa
Lamborghini
LP560 GT3
91
MARC
MARC Cars Australia
Keith Kassulke
MARC
Focus V8
92
MARC
MARC Cars Australia
Michael Benton
MARC
Focus V8
93
MARC
MARC Cars Australia
Jake Camilleri
MARC
Mazda V8
94
MARC
MARC Cars Australia
Jack Smith
MARC
Mazda V8
95
MARC
MARC Cars Australia
Sam Gerrard
MARC
Focus V8
Jason Busk
96
MARC
MARC Cars Australia
TBA
MARC
Focus V8