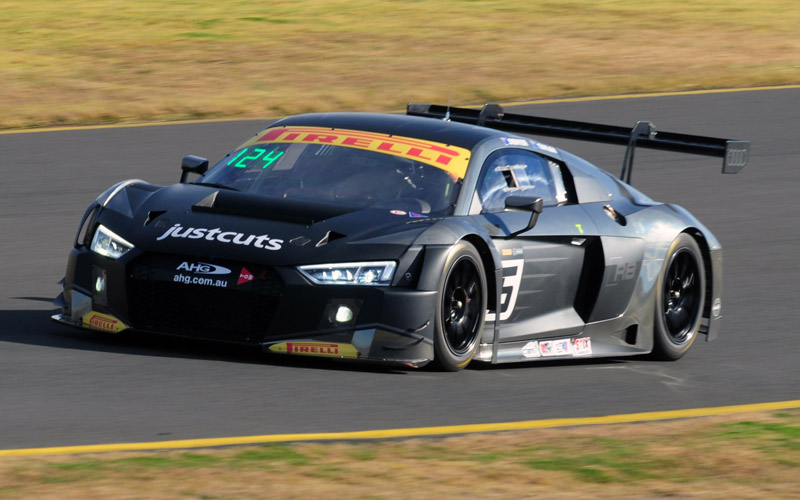 Television personality Grant Denyer will join Greg Taylor behind the wheel of the GT Motorsport Audi R8 LMS at Sydney Motorsport Park next weekend.
The event will be the first time Denyer has raced since clinching the Australian Endurance Championship at Highlands Park at the end of last season but is optimistic heading into the event.
It also marks the first time Denyer will pilot an Audi R8 LMS, though the experienced racer is confident he'll adapt to the car quickly.
"It's always nice to come back; I'm still riding high after last year's championship victory, to be honest, so hopefully we can have a good shake," said Denyer.
"Everybody says the Audi's quite a good car to drive, so once I get my head around the quirks that make it unique, we'll be sweet.
"There's a bit of aero around here, that's good for the Audi. I'm really looking forward to it.
"Greg's a really fast Am, we should be a great combo so we should be in with half a shot."
Alongside Denyer will be six-time Australian GT race winner Taylor, who stood on the podium at the Sydney Motorsport Park 101 last year, and dominated the Australian GT Trophy Series round at the circuit in 2016.
Taylor has expanded his motor racing commitments in 2017, gaining experience internationally alongside former Indycar star Alex Tagliani in Asia, providing the Sydney-sider with valuable racing miles.
"I've been having a bit of fun doing the FRD Series in China, which is great, but Sydney Motorsport Park's my home track, so you've obviously got to front up to your home track," Taylor said.
"When I found out Grant was looking for a drive, he's a good mate and he's also very handy in the car, and I think together I think we should be pretty competitive.
"The Audi seems to be pretty competitive here against all the rest of the cars, so I think we're kind of going in hoping for a good result."
The pair makes for one of the most accomplished and successful driver lineups on the grid, with ten Australian GT victories between them across all competitions.
Together they'll face 129 laps of the 3.93-kilometre circuit in what will be the longest Australian GT race ever.
Taylor and Denyer will take to the circuit on Friday (August 18) for opening practice and two qualifying sessions, before the gruelling Sydney Motorsport Park 501 on Saturday, which will be broadcast live on Fox Sports, Channel 506.