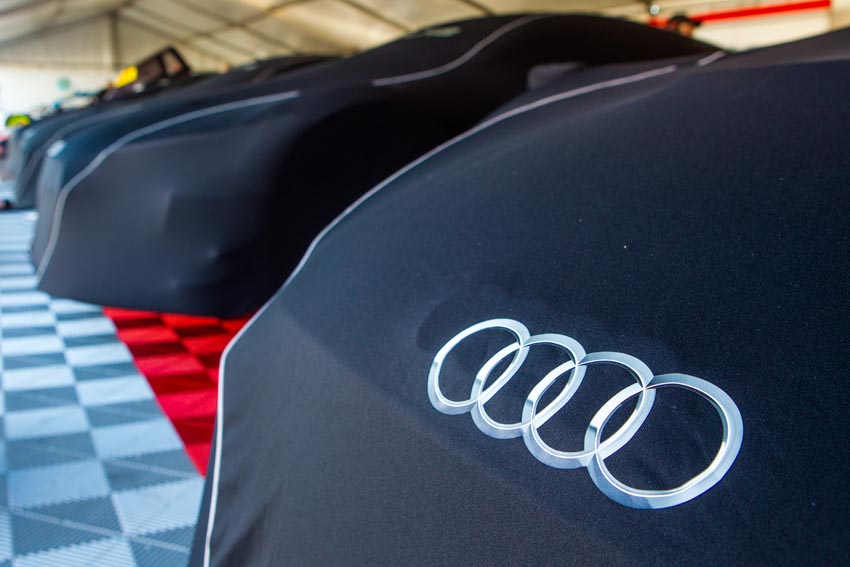 Audi Sport Customer Racing Australia heads into the final round of the Australian GT Championship at Sandown this weekend looking to secure the 2017 title.
Geoff Emery in the Valvoline Jamec Pem Racing Audi R8 LMS, and stablemate Ash Walsh in the Supabarn Supermarkets entry could both wrap up the Championship at the iconic Sandown circuit.
"I'm happy with how the season's gone, especially considering where I was this time last year – I was learning to walk again," said Emery.
"The expectation was I'd probably need half a year to get back on the pace again, but we came out and we were on the pace straight away again."
"A championship's a championship, but considering what happened and where I've been I'd be really happy, ecstatic."
"Our priority is to get the best result we can for Ash in the championship," said Supabarn Supermarkets team owner James Koundouris.
With Koundouris again unable to compete, his place in the car will be filled by Duvashen Padayachee, who partnered Walsh at Townsville, where they secured third for the round.
"Because I missed Townsville I'm not really in with a shout, so we'll focus our efforts on getting a good result for Ash.
"He's really good on cold tyres, in fact, he's really good everywhere," Koundouris added.
"Sandown is made up of two big drag strips, so we'll take as much drag out of the car as we can and then the focus is on braking.
"As long as we qualify well I'm sure Ash can get away a little bit, but if we're racing with other cars we'll risk being passed down the straights, but that's the great thing about sports car racing!"
Audi Sport Customer Racing Australia will also support Ash Samadi in the Ah Apartments Audi R8 LMS.
Samadi enjoyed a breakthrough performance at the previous round of the Championship in Townsville, taking Gold Driver Cup award for the round.
"I'd like to think I'm on a bit of a roll now," Samadi enthused.
"Working with Eric Pender for the first time in Townsville, he showed me how parts of the car worked and how I could then made them work for me.
"Winning the Gold Driver Cup in Townsville really fills my with confidence and enthusiasm too, so I'm really looking forward to the weekend – the last one for 2017!"
Steve McLaughlan is also set to make his return to the Australian GT Championship for the first time since the opening round in Adelaide back in March.
McLaughlan has kept himself race sharp, dominating the Australian GT Trophy Series in the Valvoline Jamec Pem Racing Audi R8 LMS Ultra, but is ready to step into the latest generation Audi R8 LMS GT3.
"That'll be the trick, just getting used to the newer car again, though in some sense I prefer to drive the newer car – it's a little bit easier in a lot of areas.
"I haven't been in the car since Adelaide but I think I'm ready to get back into the main game. It's just taken me a few races to get my confidence back."
Three races across the weekend will make for an action-packed season finale, with the title likely to only be settled in the final race of the year.
Practice and qualifying take place on Friday before the competition heats up on Saturday with three 40-minute races.
All sessions from qualifying will be shown live on Fox Sports, Channel 506.