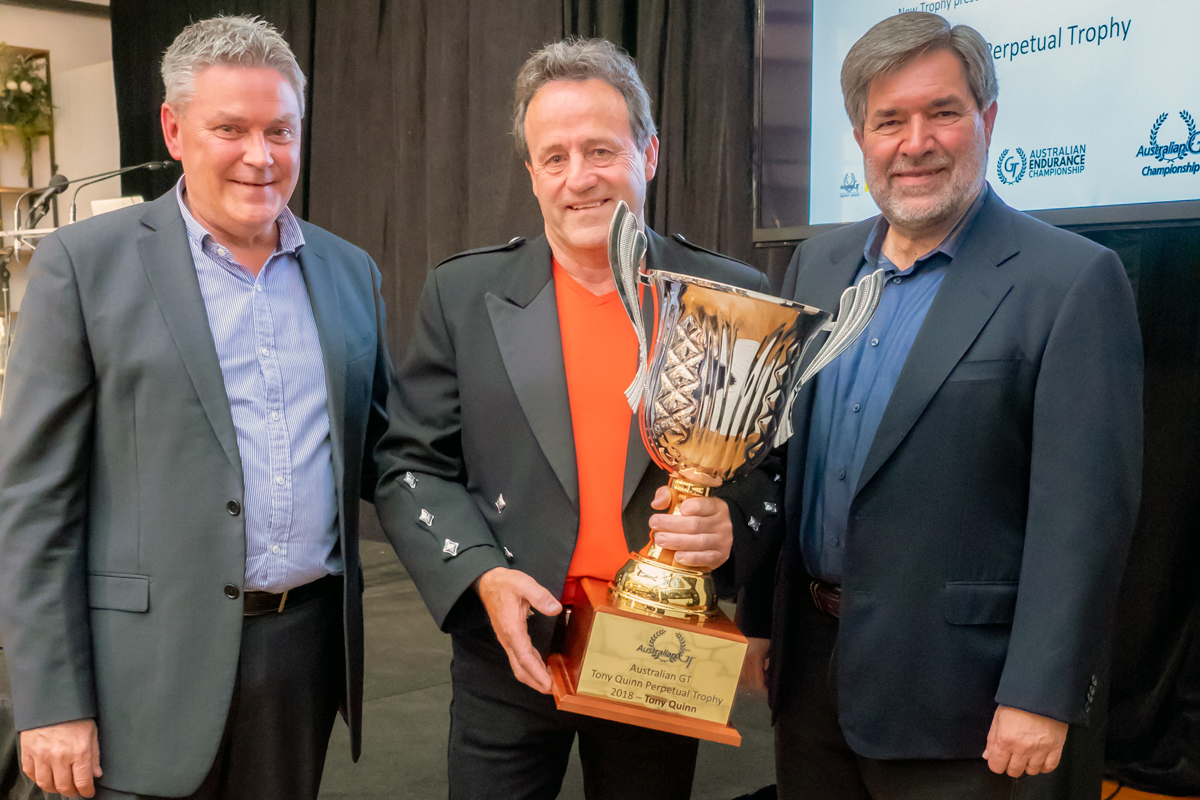 Australian GT has recognised Tony Quinn's enormous contribution to the category with the establishment of the Tony Quinn Perpetual Trophy.
Awarded at the end of season Gala in Melbourne, Quinn became the first recipient of the trophy which bears his name.
The Tony Quinn Perpetual Trophy will be awarded annually to a member of the Australian GT fraternity who has made a significant contribution in the previous year, with Quinn to play a key part in deciding future recipients.
The new award came as a surprise to Quinn, who was named the 2018 recipient by Australian GT manager Ken Collier.
Quinn received the Trophy for his role in Australian GT in 2018 and in recognition for the significant role he has played in the category over the last seven years.
"I'm enormously humbled to accept the award," said Tony Quinn.
"When I took it over I think we had eight cars at Homebush.
"This is recognition not only for me but for everyone who worked hard over the years to really build Australian GT into what it is today.
"I'm tremendously proud of what we've achieved over the last few years and look forward to supporting the category in future."
Australian GT owner Jim Manolios praised Quinn's contribution to the growth and success of the category since becoming involved as an organiser in 2011.
"Tony has been such an instrumental figure in getting GT racing in Australia up and going and he really put in when nobody else was interested," said Manolios.
"We needed a way of honouring that, and Ken Collier and I were talking and I thought well why don't we name a perpetual trophy after him, and he can have some input into who gets it.
"Every sporting category needs some form of recognition for people who are really contributing to the sport and the success of the category, and this is an appropriate award given the significant part Tony has played in Australian GT's history."
At the Gala, Australian GT also formally recognised the 2018 winners across all competitions including the CAMS Australian GT Championship, CAMS Australian Endurance Championship, CAMS Australian GT Trophy Series, and CAMS Australian GT Championship GT4.
The category is now gearing up for the 2019 season which gets under way as part of the Formula 1 Rolex Australian Grand Prix in March.
The seven event season will take in a mixture of sprint and endurance style events, with the CAMS Australian GT Championship, CAMS Australian Endurance Championship, and CAMS Australian GT Trophy Series already promising to deliver another thrilling year of GT racing.
2018 Australian GT Award Winners
Australian GT Championship winner – Geoff Emery
Australian GT Championship second place – Liam Talbot
Australian GT Championship third place – Peter Hackett
Australian Endurance Championship winners – Max Twigg & Tony D'Alberto
Australian Endurance Championship second place – Tony Bates & Daniel Gaunt
Australian Endurance Championship third place – Steve Richards & Michael Almond
Australian GT Championship Gold Driver (sprint series winner) – Peter Hackett
Australian GT Championship GT4 winner – Jeremy Gray
Australian GT Championship GT4 second place – David Crampton & Trent Harrison
Australian GT Championship GT4 third place – Justin McMillan
Australian GT Trophy Series winner – Nick Kelly
Australian GT Trophy Series second place – Matthew Stoupas
Australian GT Trophy Series third place – Rio Nugara
Tony Quinn Perpetual Trophy – Tony Quinn