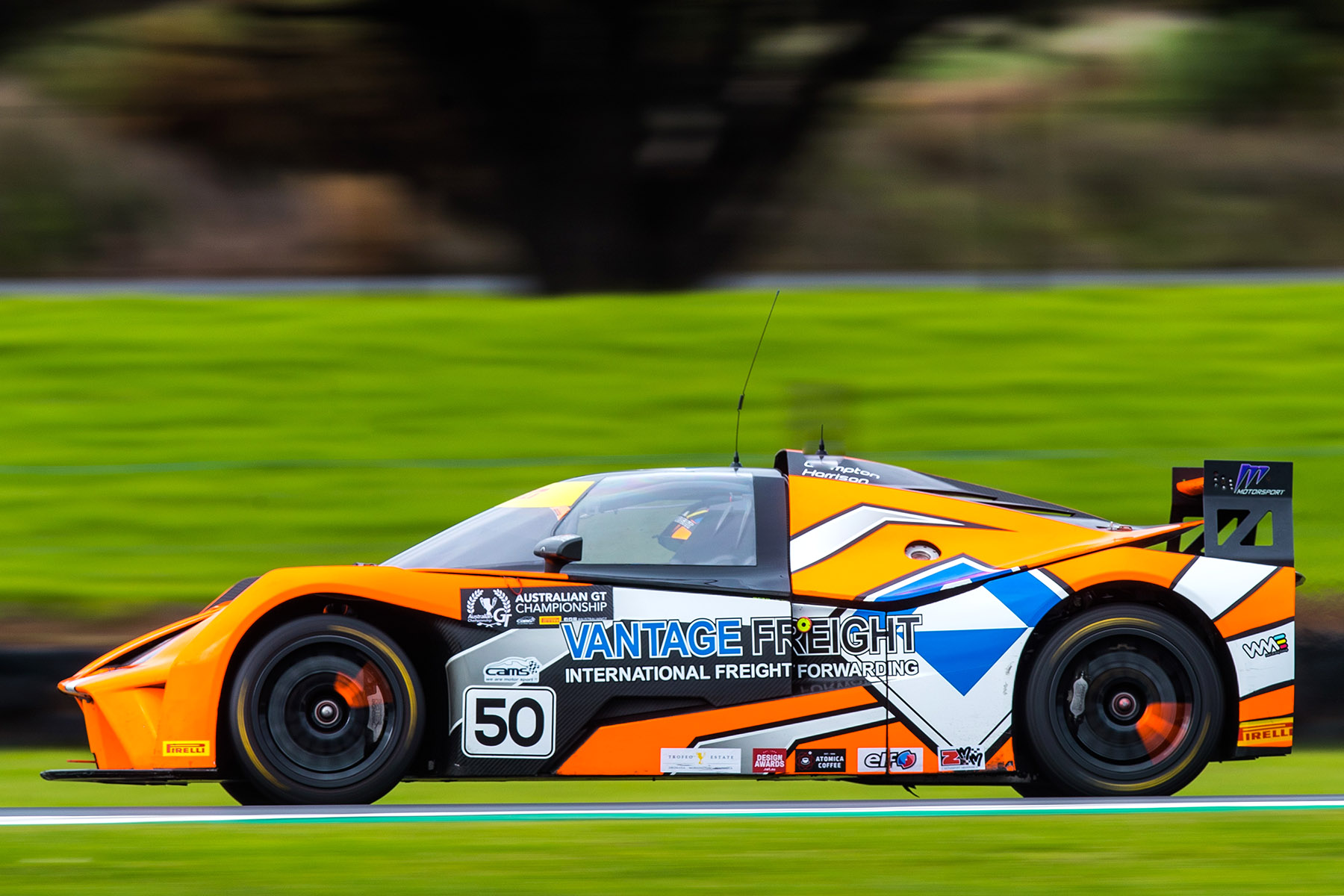 After claiming the runner-up position in both the 2019 Australian GT Championship [GT4] and the GT4 division of the Australian Endurance Championship, Vantage Racing's David Crampton has stepped things up another gear ahead of the new season, with the pending arrival of a new MY20 'EVO' spec KTM X-Bow, the passionate GT4 competitor intent on going one better – twice – in season 2020.
"I had an opportunity to spend some time with Reiter Engineering (the manufacturer of the mighty 2-litre turbo powered KTM X-Bow) in Europe last year, and I was party to their plans for the coming season," Crampton explained.
"The new car is different in a number of respects to my current car (2019-spec), but it's different in that it is more user-friendly for the Bronze-classified drivers, most specifically in extracting quicker lap times more consistently. There are a number of subtle changes that will make our lives easier as drivers – from modified aero, to a performance upgrade which will see us with more straight line speed – which will be nice. There has been a slight change to the tyre sizes we can run too, so more rubber on the ground.
"At the moment the new car is in transit, and we hope to have it ready for the opening races of the season at Phillip Island across March 20-22, but if it doesn't arrive, my current car, and the sister M-Motorsport car that won the two championships last year (with team-boss Justin McMillan and team-mate Glen Wood), is sitting in the factory ready to go."
McMillan has made no secret of the fact that he is keen to run at least two KTMs in the GT4 Championships this year, with Crampton's Vantage Freight entry one of those, however details of who is campaigning the second car are not yet finalised.
"Fact is once the 2020 car arrives and clears final homologation, we'll have three cars ready to go as my current car will be available for lease or sale like Justin's." Crampton confirmed.
"We are campaigning both the six-round Australian GT [GT4] Championship, and the two remaining rounds of the Australian Endurance Championship at Phillip Island, and like anything, there are economies of scale with running a two-car, or three-car operation.
"I like GT4 it suits me perfectly. It was the ideal transition from a Radical sportscar, and it can be run very cost effectively. Mechanically they can run competitively for well over a season with the correct maintenance, whilst parts and repairs are reasonable given it's a racecar.
"There's a lot of discussion now about GT4 and we've seen a number of new cars appear on circuits around the country, and we hear talk of some of those cars coming to play and we welcome that – it's a great category and allows us to compete at some fantastic venues. For one, I can't wait to get back to Bathurst with four hours of racing ahead of us there this season – I've got some unfinished business on the mountain, and I'm really looking forward to settling my differences!"
The opening round of the GT4 season begins with the inaugural 'GT Sportscar Festival' – round two of the Australian Endurance Championship – at Phillip Island, with the first of two 4-Hour races at the venue and the first event for the Crampton X-Bow, whilst the team will also contest the first round of the Australian GT [GT4] Championship that same weekend, with two dedicated one-hour races scheduled for the GT4 competitors.
For anyone interested in contesting the 2020 Australian GT Championship (or the two Phillip Island endurance rounds) in a title-winning MY19 KTM X-Bow GT4, they can contact Justin McMillan directly via justin@mmotorsport.com.au
2020 Australian GT Championship [GT4]
Rnd#1 – 20-22 March, Phillip Island, Victoria [4-Hour] – GT Sportscar Festival
Rnd#2 – 10-12 April, Bathurst, NSW
Rnd#3 – 15-17 May, Barbagallo, WA [Supercars]
Rnd#4 – 14-16 August, Phillip Island, Victoria [4-Hour] – GT Sportscar Encore
Rnd#5 – 18-20 September, The Bend Motorsport Park, SA [Supercars]
Rnd#6 – 8-11 October, Bathurst, NSW [Supercars]
2020 Australian Endurance Championship [GT4]
Rnd#2 – 20-22 March, Phillip Island, Victoria [4-Hour] – GT Sportscar Festival
Rnd#3 – 14-16 August, Phillip Island, Victoria [4-Hour] – GT Sportscar Encore
---
Keep in touch with all the Australian GT action and information via;
www.australiangt.com.au
https://www.facebook.com/AustralianGT
https://twitter.com/australiangt
https://www.instagram.com/australiangt/
#australiangt