Sydney Motorsport Park 101
August 26, 2016

-

August 28, 2016
Event Navigation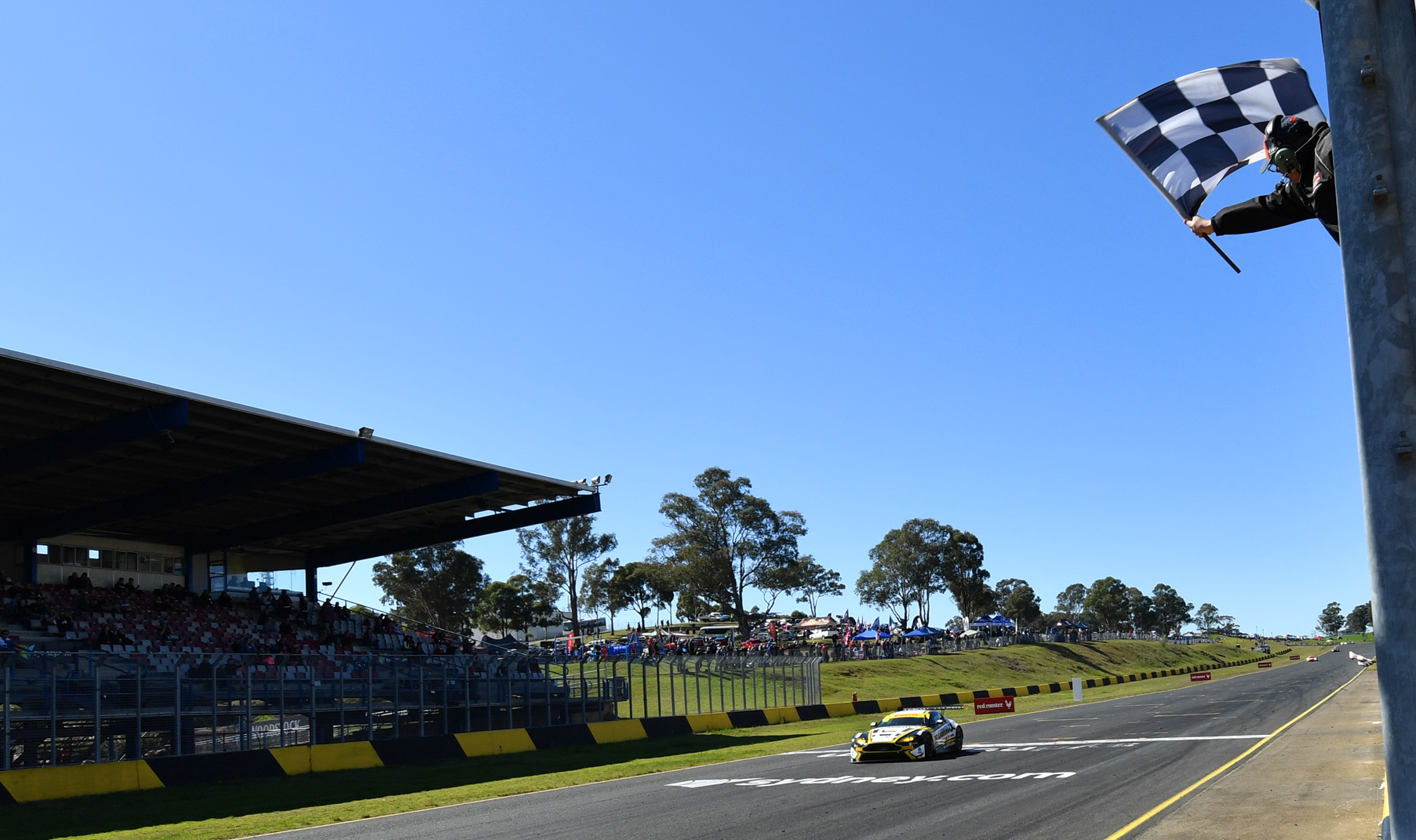 The CAMS Australian Endurance Championship (AEC) was created in 2016 as a result of the on-going growth of GT racing in Australia.
The AEC will be contested over four rounds with two in New Zealand.
The AEC races will each have two timed compulsory pit stops and each car will have two drivers. The endurance races will be perfect for PRO/AM driver combinations however many cars will have two amateur ranked drivers.
Vehicles eligible for the AEC are restricted to the current specification GT3 cars which are the same as vehicles which compete in worldwide GT3 racing.
Race
| | | | | | | | |
| --- | --- | --- | --- | --- | --- | --- | --- |
| Pos | Car | Competitor/Team | Driver | Vehicle | CL | Laps | Time |
| 1 | 95 | Miedecke Motor Group | G.Miedecke/A.Miedecke | Aston Martin Vantage | CMP | 101 | 2:37:42.873 |
| 2 | 911 | Walkinshaw GT3 | J.Martin/D.Padayachee | Porsche 911 GT3-R | CMP | 101 | 2:37:54.891 |
| 3 | 5 | GT Motorsport | G.Taylor/N.Antunes | Audi R8 LMS | CMP | 101 | 2:38:32.667 |
| 4 | 59 | McLaren Melbourne | G.Denyer/N.Morcom | McLaren 650S GT3 | CMP | 101 | 2:38:59.240 |
| 5 | 11 | Objective Racing | T.Walls/W.Luff | McLaren 650S GT3 | CMP | 101 | 2:39:03.110 |
| 6 | 63 | Eggleston Motorsport | P.Hackett/D.Storey | Mercedes Benz AMG G | CMP | 100 | 2:37:43.916 |
| 7 | 37 | Darrell Lea | K.Quinn/D.Gaunt | McLaren 650S GT3 | CMP | 100 | 2:37:53.633 |
| 8 | 1 | JAMEC PEM Racing | M.Molina/T.Bates | Audi R8 LMS | CMP | 100 | 2:37:55.784 |
| 9 | 7 | Darrell Lea | T.Quinn/H.Cooper | Aston Martin Vantag | CMP | 100 | 2:38:01.476 |
| 10 | 6 | Skwirk Online Education | L.Talbot/J.Fouracre | Audi R8 Ultra | CMP | 100 | 2:38:09.551 |
| 11 | 222 | Scott Taylor Motorsport | S.Taylor/C.Baird | Mercedes Benz AMG G | CMP | 100 | 2:38:40.545 |
| 12 | 33 | Fastway Couriers | S.Ellinghham/T.Miles | Audi R8 Ultra | CMP | 100 | 2:38:56.329 |
| 13 | 51 | AMAC Motorsport | A.Macpherson/B.Shiels | Porsche 997 GT3-R | CMP | 100 | 2:39:06.397 |
| 14 | 88 | Maranello Motorsport | P.Edwards/J.Bowe | Ferrari 488 GT3 | CMP | 99 | 2:37:41.528 |
| 15 | 19 | Hogs Breath Cafe / Griffith Co | M.Griffith/M.Solomon | Mercedes Benz AMG S | CMP | 99 | 2:37:51.457 |
| 16 | 100 | SR Motorsport | S.Richards/M.Twigg | BMW M6 GT3 | CMP | 99 | 2:37:59.814 |
| 17 | 3 | Bondi Wholefoods | A.Samadi/T.D'Alberto | Audi R8 LMS | CMP | 99 | 2:38:26.702 |
| 18 | 2 | JAMEC PEM Racing | S.McLaughlan/D.Koutsimidis | Audi R8 LMS | CMP | 98 | 2:37:59.391 |
| 19 | 8 | Maranello Motorsport | A.Deitz/C.McConville | Ferrari 458 GT3 | CMP | 98 | 2:38:03.732 |
| 20 | 29 | Pirelli/Trofeo Motorsport | J.Manolios/R.Millier | Lamborghini Huracan | CMP | 96 | 2:38:04.021 |
| 21 | 48 | Interlloy M Motorsport | J.McMillan/G.Wood | Lamborghini R-EX | CMP | 96 | 2:38:40.433 |
| DNF | 23 | JBS Australia | R.Lago/D.Russell | Lamborghini R-EX | CMP | 81 | 2:12:02.732 |
| DNF | 62 | Performance West Motorsport | A.Rullo/P.Rullo | Lamborghini Gallard | CMP | 35 | 1:13:23.763 |
| DNF | 4 | Supabarn Supermarkets | Marcus Marshall (QLD) | Audi R8 LMS | CMP | | |