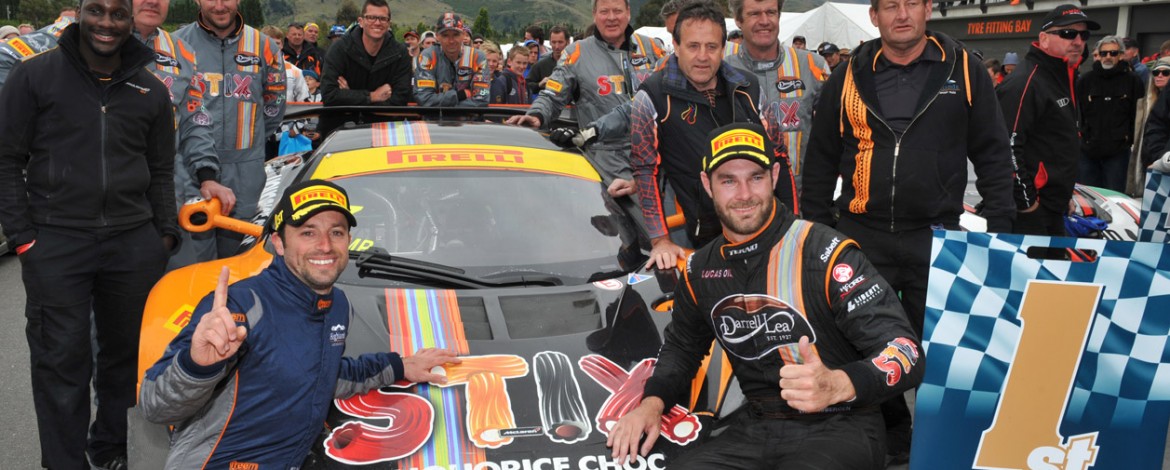 Highlands Motorsport Park
Re: Highlands 101 event, 13-15 November 2015
Media statement
15 November 2015
 Van Gisbergen and Quinn win Highlands 101 enduro
Driving a McLaren 650S GT3, Kiwi star Shane Van Gisbergen and Klark Quinn battled through a final few intense laps to secure victory in the Highlands 101 feature race at Highlands Motorsport Park today.
During what is the biggest weekend of motorsport at Highlands each year which also features the final round of the Australian GT Championship, Van Gisbergen snatched the 101 race lead from Erebus Motorsport's Jack LeBrocq with just two laps to go. LeBrocq, in a Mercedes-Benz, managed to hold off the hard-chasing Van Gisbergen in a McLaren for much of the final sector of the race. A small gap gave the Kiwi the advantage he was looking for to take the lead, and Christopher Mies, the newly-crowned Australian GT champion, also took the same gap to come through for second place. The achievements of LeBrocq and co-driver Morgan Haber – who won his first-ever Australian GT Championship race on Saturday – to secure third place in such a hard-fought endurance race were noted by commentators given that both Van Gisbergen and Mies are both factory drivers.
 Van Gisbergen said: "That was one of the best battles I've ever had. I don't know who was in the Mercedes at the end there, but they drove well. I had Chris behind me and we were flat out the whole way at the end there. Thanks to Klark; he did a great job all weekend. To have the round win and to win the 101 as well, was just awesome."
 Quinn, the son of Highlands' owner Tony Quinn, was also delighted with their success. "Simply it's an honour to race with Shane and to have him drive with me in the McLaren in this part of the world, it's just beautiful."
Mies said it was interesting watching the Van Gisbergen-LeBrocq battle from third. "LeBrocq was maybe one to two seconds slower than us, but it's hard to pass here so we had to wait for the right moment. Van Gisbergen went into the carousel and got the inside line so I just went with him. I maybe was a tiny bit quicker than Van Gisbergen in the last two laps but not enough to pass him and he didn't do any mistakes so I bought it home safely in second place and that's a big achievement for us. We lost a bit of a time at the beginning, so to come back from about 20th to P2 was just fantastic."
LeBrocq said: "Overall, it was a great run. Morgan did a great job early on to keep us at the pointy end. It wasn't so easy in the end and Shane had us under pressure. We had nothing left in the car in the end. The boys and girls did a great job this weekend."
The third edition of the approximately three hour long endurance race featured 32 starters.
The Auckland-based Trass Family Motorsport Ferrari was the early leader in the hands of Jono Lester and Graeme Smyth, but ultimately a tactical error in their pit strategy resulted in the team being disqualified.
The honour of top New Zealand team went to Southland's Inky Tulloch and Nelson's John McIntyre in their crowd-pleasing Camaro GT3.
McIntyre said: "To be first New Zealand team, that was our goal and we're rapt! We overcame some early challenges like getting a drive-through penalty for me not grabbing the tag off the back of the car properly following the run and then Inky had a spin, but he kept it together. While we haven't got the pace of some of the other GT cars, we're very pleased to run so strongly and secure 14th overall as well as the trophy for first Kiwi team. We're looking forward to coming back next year and making it three in a row."
Mike Sentch, Highlands' general manager, says the weekend has been a huge success. "It's our biggest weekend of motor racing here at Highlands and it's an absolute highlight of our year. It's fantastic to see a good crowd of spectators enjoying premium race action from a class field of GT cars and Kiwi competitors. The whole weekend is made possible thanks to an incredible group of volunteers and officials, plus our Highlands' team. Everyone's helped us take this event to another level, raising the standard of motorsport in New Zealand yet again and we really appreciate their efforts."
The 2016 Australian GT Championship includes events at both Highlands and the north Waikato Hampton Downs circuit that Tony Quinn bought earlier this year. Sentch adds: "The teams are telling us they're excited to have two New Zealand rounds; they can't wait to come back. And we're talking with other Australian categories also looking at running their final rounds at Highlands."
ENDS/
Highlands 101 qualifying (combined times of driver A & B)
Position, Driver(s), Car
1, Jono Lester/Graeme Smyth, Ferrari
2, Christopher Mies/Ryan Millier, Audi
3, Tony D'Alberto/Grant Denyer, Ferrari
4, Klark Quinn/Shane Van Gisbergen, McLaren
5, Roger Lago/David Russell, Lamborghini
6, Tony Quinn/Garth Tander, McLaren
7, Max Twigg/Shae Davies, Mercedes-Benz
8, Andrew Miedecke/George Miedecke, Aston Martin
9, Nathan Antunes/Barton Mawer, Audi
10, Morgan Haber/Jack LeBrocq, Mercedes-Benz
Highlands 101 race
Position, Driver(s), Car, Best time
1, Klark Quinn/Shane Van Gisbergen, McLaren, 1:32.610
2, Christopher Mies/Ryan Millier, Audi, 1:32.332
3, Morgan Haber/Jack LeBrocq, Mercedes-Benz, 1:33.376
4, Max Twigg/Shae Davies, Mercedes-Benz, 1:32.816
5, Roger Lago/David Russell, Lamborghini, 1:33.125
6, Tony D'Alberto/Grant Denyer, Ferrari, 1:33.018
7, Warren Luff/Tony Walls, McLaren, 1:33.003
8, Nathan Antunes/Barton Mawer, Audi (trophy category), 1:33.877
9, Peter Fitzgerald/Fabian Coulthard, Audi, 1:34.491
10, Marcus Marshall/Theo Koundouris, Porsche (trophy category), 1:36.553
Attached images from Sunday's racing, please credit John Morris.
For further comment, please contact:
Mike Sentch, general manager, Highlands Motorsport Park
T: 03 445 4052
For further information or alternative and/or high res images, please contact:
Kate Gordon-Smith, Media Manager, Highlands Motorsport Park
E: kate@relishcommunications.co.nz
M: 021 587 227