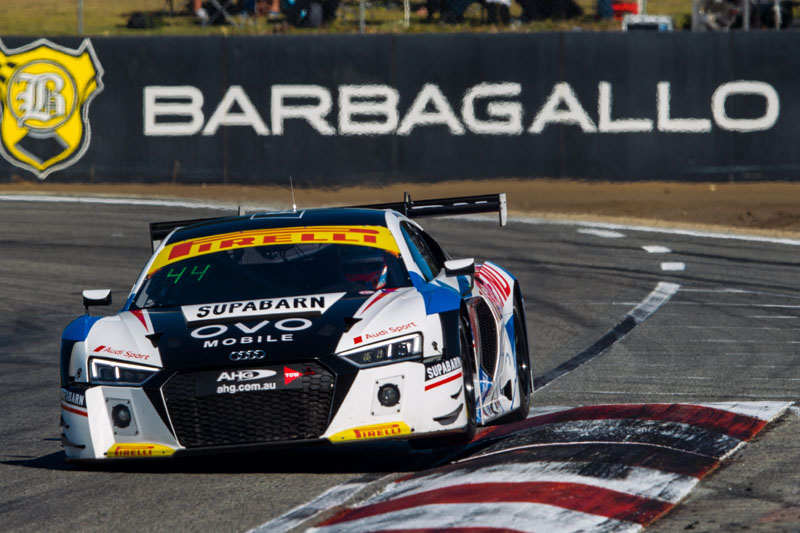 Ash Walsh has set the fastest time in opening qualifying for Round 3 of the 2017 CAMS Australian GT Championship at Barbagallo.
The Supabarn Supermakets Audi driver set his best time mid-way through the 20-minute session, before climbing out of the car, confident with his 55.428s lap.
"We were really happy rolling in to qualifying; we could really hit the ground running," Walsh explained.
"The car is very well suited to the track. We test here a couple of weeks ago, so we were able to do evaluation of different setups."
Second fastest in the session was Walsh's Audi Sport Customer Racing Australia team-mate Kelvin van der Linde, who progressively improved his times throughout the session to record a best of 55.717s.
Audi also claimed third place with Daniel Gaunt (Kentucky Fried Chicken Audi), who edged out local favourite Peter Major (PM Motorsport Lamborghini), though the pair were split by less than half a tenth of a second.
Having set the pace early in the session, Roger Lago set a 55.981s lap to be fifth fastest, the JBS Australia Lamborghini proving fastest of all through the middle part of the lap.
A tightly packed group followed Brad Shiels in the AMAC Motorsport Lamborghini Huracan, who was little more than a tenth of a second adrift of Lago, ahead of an incredibly tight pack of six cars.
Covered by less than half a second, Liam Talbot (MEGA Racing Porsche) in seventh was closely followed by Fraser Ross (Total/Opti-Coat McLaren) and Steve Richards (BMW Team SRM).
Barely a tenth of a second split the next three, Tony Walls (Objective Racing McLaren) ahead of Max Twigg (WM Waste Management Services) and Jake Camilleri (Hog's Breath Cafe/Griffith Corporation).
Those positions however could still change, with a second qualifying session set for 08:40 tomorrow morning.
It means Walsh's fastest time could still be bettered as team's strap in Driver B for the second 20-minute session.
That will see James Koundouris climb aboard the provisional pole sitting car he shares with Walsh.
"We're expecting the track to be about a second a lap quicker tomorrow, so the lap is definitely in danger," Walsh confessed.
"James is going pretty well; he was on some pretty old tyres in practice, so I think he could be a bit of a surprise packet."
The best time from either qualifying session will determine the grid for the first 60-minute race of the weekend, scheduled to start at 12:25.
All sessions the Australian GT action can be seen live on Fox Sports, channel 506.
Qualifying 1 Results
| | | | | |
| --- | --- | --- | --- | --- |
| Pos | Competitor/Team | Driver | Vehicle | Time |
| 1 | Supabarn Supermarkets | Ash Walsh | Audi R8 LMS | 55.428 |
| 2 | Valvoline Jamec Pem | Kelvin van der Linde | Audi R8 LMS | 55.717 |
| 3 | Kentucky Fried Chicken | Daniel Gaunt | Audi R8 LMS | 55.788 |
| 4 | PM Motorsport | Peter Major | Lamborghini R-EX | 55.827 |
| 5 | JBS Australia | Roger Lago | Lamborghini R-EX | 55.981 |
| 6 | AMAC Motorsport | Brad Shiels | Lamborghini Huracan GT3 | 56.093 |
| 7 | MEGA Racing | Liam Talbot | Porsche 911 GT3-R | 56.333 |
| 8 | YNA Autosport | Fraser Ross | McLaren 650S GT3 | 56.483 |
| 9 | BMW Team SRM | Steve Richards | BMW M6 GT3 | 56.524 |
| 10 | Objective Racing | Tony Walls | McLaren 650S GT3 | 56.731 |
| 11 | WM Waste Management Services | Max Twigg | Mercedes-AMG GT3 | 56.819 |
| 12 | Hogs Breath Café/Griffith Corporation | Jake Camilleri | Mercedes-AMG GT3 | 56.826 |
| 13 | Moveitnet/AFS | Tony Bates | Mercedes-AMG GT3 | 56.932 |
| 14 | GT Motorsport | Greg Taylor | Audi R8 LMS | 57.107 |
| 15 | Ah Apartments | Ash Samadi | Audi R8 LMS | 57.148 |
| 16 | DJS Racing | Danny Stuttered | BMW M6 GT3 | 57.250 |
| 17 | Scott Taylor Motorsport | Scott Taylor | Mercedes-AMG GT3 | 57.543 |
| 18 | Darrell Lea | Tony Quinn | McLaren 650S GT3 | 1:01.944 |