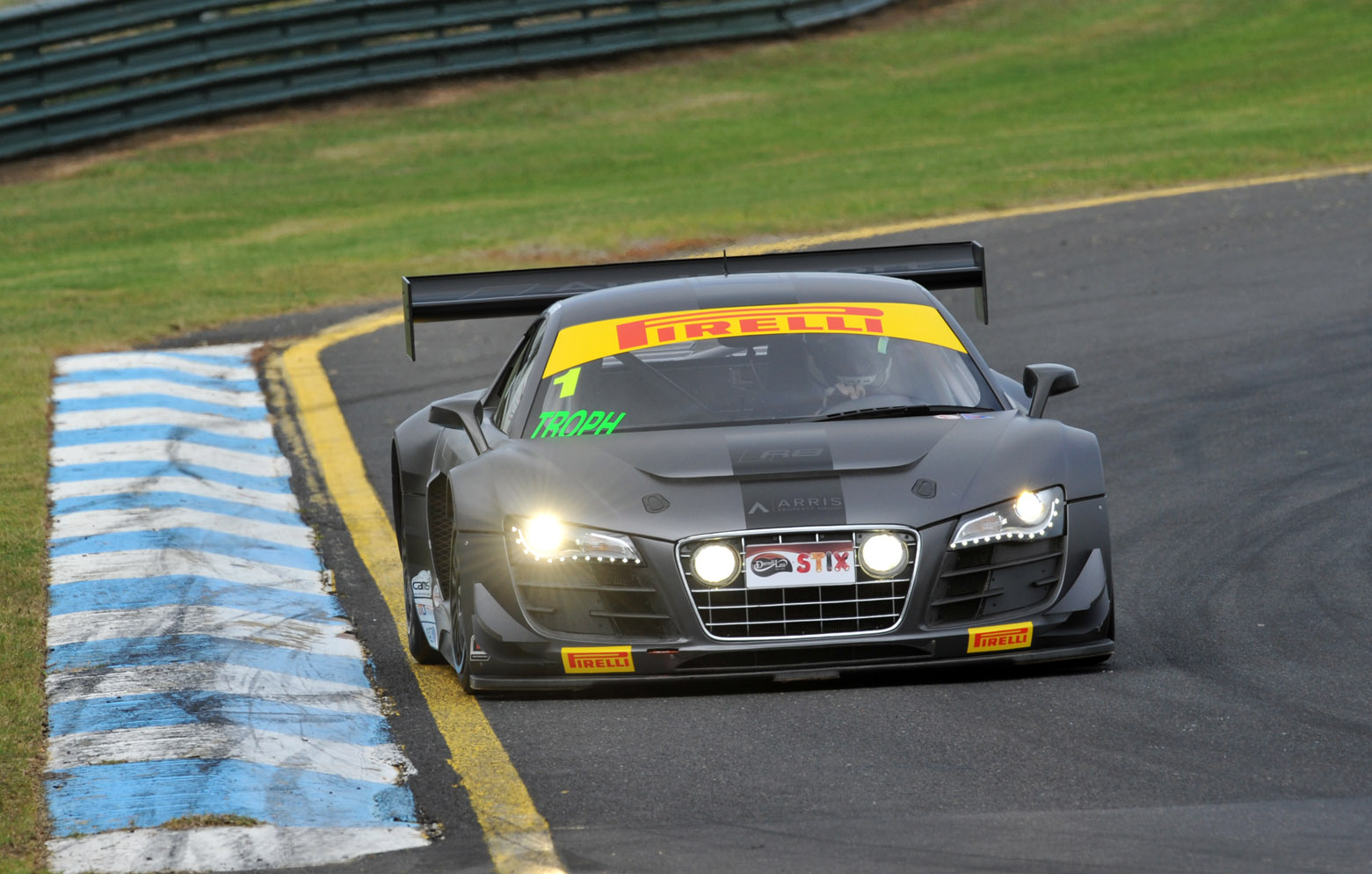 Garth Rainsbury and Ben Porter have claimed pole position ahead of the inaugural round of the CAMS Australian GT Trophy Series presented by Pirelli.
The Melbourne Performance Centre prepared Dodge Viper claimed top spot by just two hundredths of a second over fellow Trophy Class competitors Greg Taylor and Barton Mawer in the Adina Apartment Hotels Audi R8 LMS.
The Taylor/Mawer pairing had topped the timesheets throughout the session, narrowly heading the Rainsbury/Porter entry until just two minutes from the end of the session.
"The big Viper's a bit of a weapon," explained Porter. "It was starting to get a bit loose and wild but it held it all together and the results are on the board.
"It's the first round of the series so pole is great – not by a great deal but it should make for an interesting race!"
Topping the Challenge class was Australian GT debutante Scott Hookey, who set a time of 1:14.2101 in his Exotic Track Days Ferrari 458 Challenge.
"It's fantastic," enthused Hookey. "It's my first time at the track and only the second it me in the car.
"We're going to try and make our way through the field as far as we can."
The competitive MARC Cars class featured a tense battle between Jake Camilleri in the MARC V8 and the Morgan Haber/Jimmy Vernon in the sister car.
Haber was one of only three drivers to dip below the 1:12 marker, his 1:11.9381 just three hundredths faster than stable-mate Camilleri.
"We didn't know how we were going to go," Haber admitted. "I'm hoping to go a bit quicker!
"It was fairy on the limit, but it's great the MARC Cars have a home now with the Trophy Series."
The fiercely competitive qualifying session set the field for the first of two 50-minute races which will make the first round of the 2016 CAMS Australian GT Trophy Series presented by Pirelli.
Race 1 is set for 12:10 followed by Race 2 at 16:55, with both set to be streamed live online via the Shannons Nationals and Australian GT websites
Round 1 Results
| | | | | | |
| --- | --- | --- | --- | --- | --- |
| P | Class | Driver(s) | Team | Car | Time |
| 1 | Trophy | Garth Rainsbury/Ben Porter | Melbourne Performance Centre | Dodge Viper | 1:11.0354 |
| 2 | Trophy | Greg Taylor/Barton Mawer | Adina Apartment Hotels | Audi R8 LMS | 1:11.0576 |
| 3 | MARC | Morgan Haber/Jimmy Vernon | MARC Cars Australia | MARC V8 | 1:11.9735 |
| 4 | MARC | Jake Camilleri | MARC Cars Australia | MARC V8 | 1:12.0085 |
| 5 | Trophy | Jan Jinadasa | JJA Consulting Group | Lamborghini LP-560 GT3 | 1:12.0550 |
| 6 | Trophy | Matthew Turnbull | Fire Rating Solutions | Lamborghini LP-560 GT3 | 1:12.3641 |
| 7 | Trophy | Rob Smith | Southern Star Developments | Audi R8 LMS | 1:12.9843 |
| 8 | Trophy | Jed Wallis/Adam Wallis | Warrin Mining Volvo CE | Porsche 997 GT3 Cup | 1:13.4475 |
| 9 | Challenge | Scott Hookey | Exotic Track Days | Ferrari 458 Challenge | 1:14.2101 |
| 10 | MARC | Michael Brenton | MARC Cars Australia | MARC V8 | 1:14.2324 |
| 11 | Trophy | Francis Placentino | Tusk Windsor | Lamborghini Gallardo | 1:16.1215 |
| 12 | MARC | Geoff Taunton | MARC Cars Australia | MARC V8 | 1:16.1841 |
| 13 | Challenge | Jim Manolis/Ryan Millier | Trofeo Motorsport | Maserati Trofeo | 1:16.5293 |
| 14 | MARC | Tony Alford | MARC Cars Australia | MARC V8 | 1:17.0872 |
| 15 | Challenge | Brendan Cook | KPH Racing / OLOF Family Cosmetics | Porsche GT3 Cup | 1:17.1888 |
| 16 | Trophy | Con Whitlock | Whitlock Bull Bars | Audi R8 LMS | 1:19.8613 |