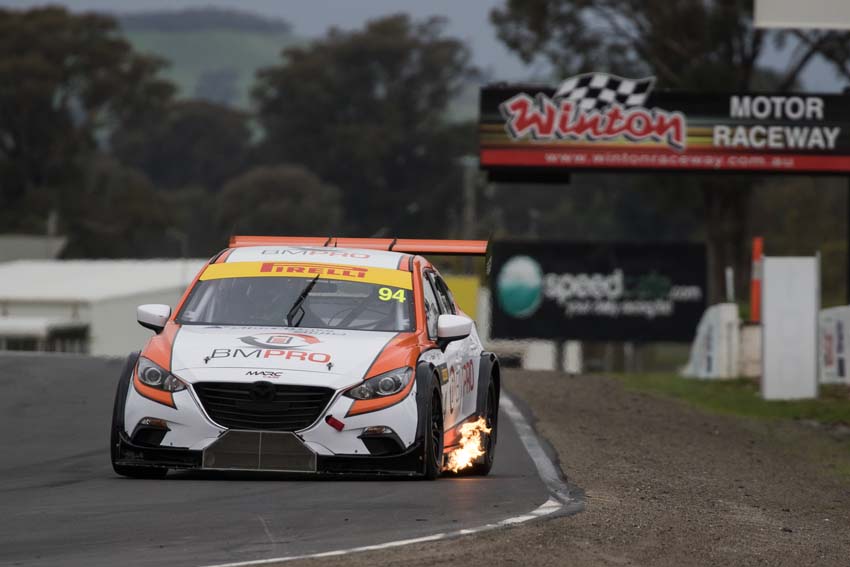 Nicholas Rowe has kicked off the second round of the CAMS Australian GT Trophy Series presented by Pirelli in the best possible fashion, setting the fastest time in opening practice at Winton Motor Raceway.
Aboard the MARC Cars Australia entry, Rowe's best of 1:25.4015 was two tenths faster than current Series leader Greg Taylor, who ended the 20-minute session in second place.
Mathew Turnbull in the Fire Rating Solutions entry ended the day's running third, Turnbull looking to fine tune his Lamborghini after his first taste of the Victorian circuit.
Jack Smith was fourth fastest in the second MARC Mazda V8, the youngster taking to the Winton circuit for just the second time in his career, and his first appearance in the CAMS Australian GT Trophy Series.
Rick Mensa was the leading Challenge class competitor with the fifth fastest time while Brendan Cook in the second Challenge class entry ran a restricted session to finish seventh.
Having claimed a podium at the opening round of the season, Rob Smith in the Southern Star Developments entry was sixth fastest in his Audi R8 Ultra while Jim Manolios elected to keep his powder dry ahead of Saturday's second practice session.
The CAMS Australian GT Trophy Series is back on track at 11:10 on Saturday morning for second practice ahead of a 30-minute qualifying session at 13:45.
Entry to Winton Motor Raceway is free to spectators across the weekend, while those unable to get to the circuit can watch both of Sunday's 50-minute races live via an online stream on the Australian GT website.
Image: Rhys Vadersyde