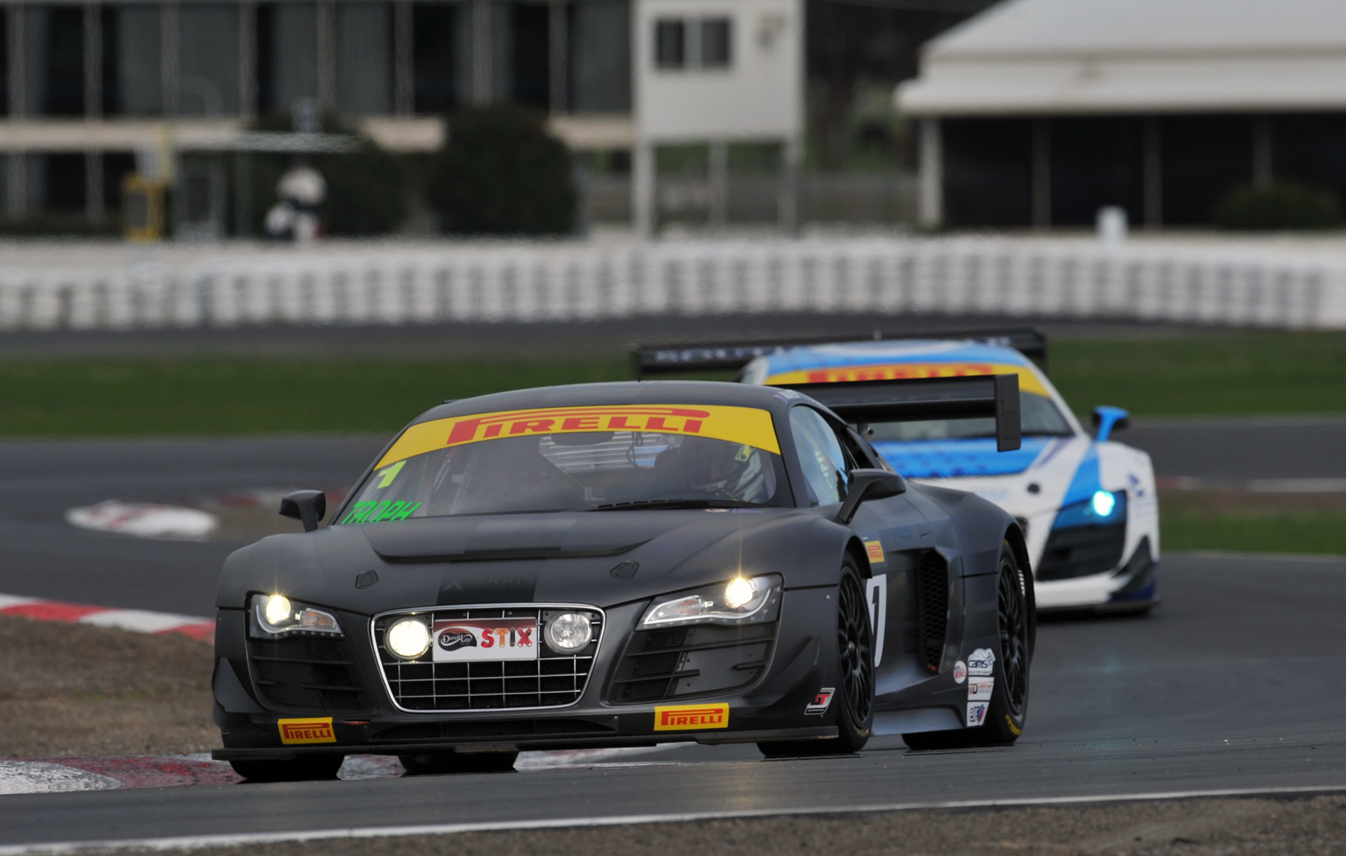 Greg Taylor will start from pole position for Race 1 of the CAMS Australian GT Trophy Series presented by Pirelli when it takes to the track at Winton Raceway tomorrow.
Taylor's 1:22.7542 was just three tenths of a second away from the race lap record, a four-year-old marker the Audi R8 LMS pilot it targeting tomorrow.
The GT Motorsport driver will be joined on the front row by the fast starting Mathew Turnbull in the Fire Rating Solutions Lamborghini for the first of two 50-minute races.
Turnbull stormed through from sixth on the grid to lead at the first corner in the opening race of the season in Sandown, setting up an intriguing opening to tomorrow's racing.
Directly behind Taylor at the rolling start will be the leading MARC Car Australia entry, driven by Jake Camilleri.
Having shown impressive pace, the MARC Mazda V8 driver proved he will be a contender by posting the third fastest time of the day.
Sitting second in the points standings, Rob Smith completed the second row in his Melbourne Performance Centre prepared Southern Star Developments Audi R8 LMS and will be add to his points total this weekend.
Jack Smith and Rick Mensa complete the third row which will see the MARC Mazda V8 line up alongside Mensa's CCC Polished Concrete Porsche GT3 Cup Car.
Making his Winton debut, Francis Placentino clocked a 1:26.6239 to record the seventh best time, one spot better than the leading Challenge Class entry of Ockert Fourie's Porsche GT3 Cup Car.
Jim Manolios and Ryan Millier shared the duties to qualify ninth best in the Maserati Trofeo, the car's first outing in more than six years.
A difficult session for Nick Rowe saw the young Queenslander a spin in the opening stanza of the session, ruling him out for the remainder of the session.
The first of two fifty-minute races is scheduled for 11:00 tomorrow morning, the result of which will set the grid for the second race, which will get underway at 14:50.
Both races will be streamed live online via the Australian GT website, while admission to Winton Motor Raceway remains to spectators.
Qualifying Result
| | | | | |
| --- | --- | --- | --- | --- |
| 1 | Greg Taylor | GT Motorsport | Audi R8 LMS | 1:22.7542 |
| 2 | Mathew Turnbull | Fire Rating Solutions | Lamborghini Gallardo | 1:23.8834 |
| 3 | Jake Camilleri | MARC Cars Australia | MARC Mazda V8 | 1:24.5914 |
| 4 | Rob Smith | Southern Star Developments | Audi R8 LMS | 1:24.9785 |
| 5 | Jack Smith | MARC Cars Australia | MARC Mazda V8 | 1:25.2611 |
| 6 | Rick Mensa | CCC Polished Concrete | Porsche GT3 Cup Car | 1:26.0061 |
| 7 | Francis Placentino | Tusk Windsor | Lamborghini Gallardo | 1:26.6239 |
| 8 | Ockert Fourie | KPH / OLOF Family Dental Spa | Porsche GT3 Cup Car | 1:34.7299 |
| 9 | Jim Manolios/Ryan Millier | Trofeo Motorsport | Maserati Trofeo | 1:41.5816 |
| 10 | Nicholas Rowe | MARC Cars Australia | MARC Mazda V8 | |