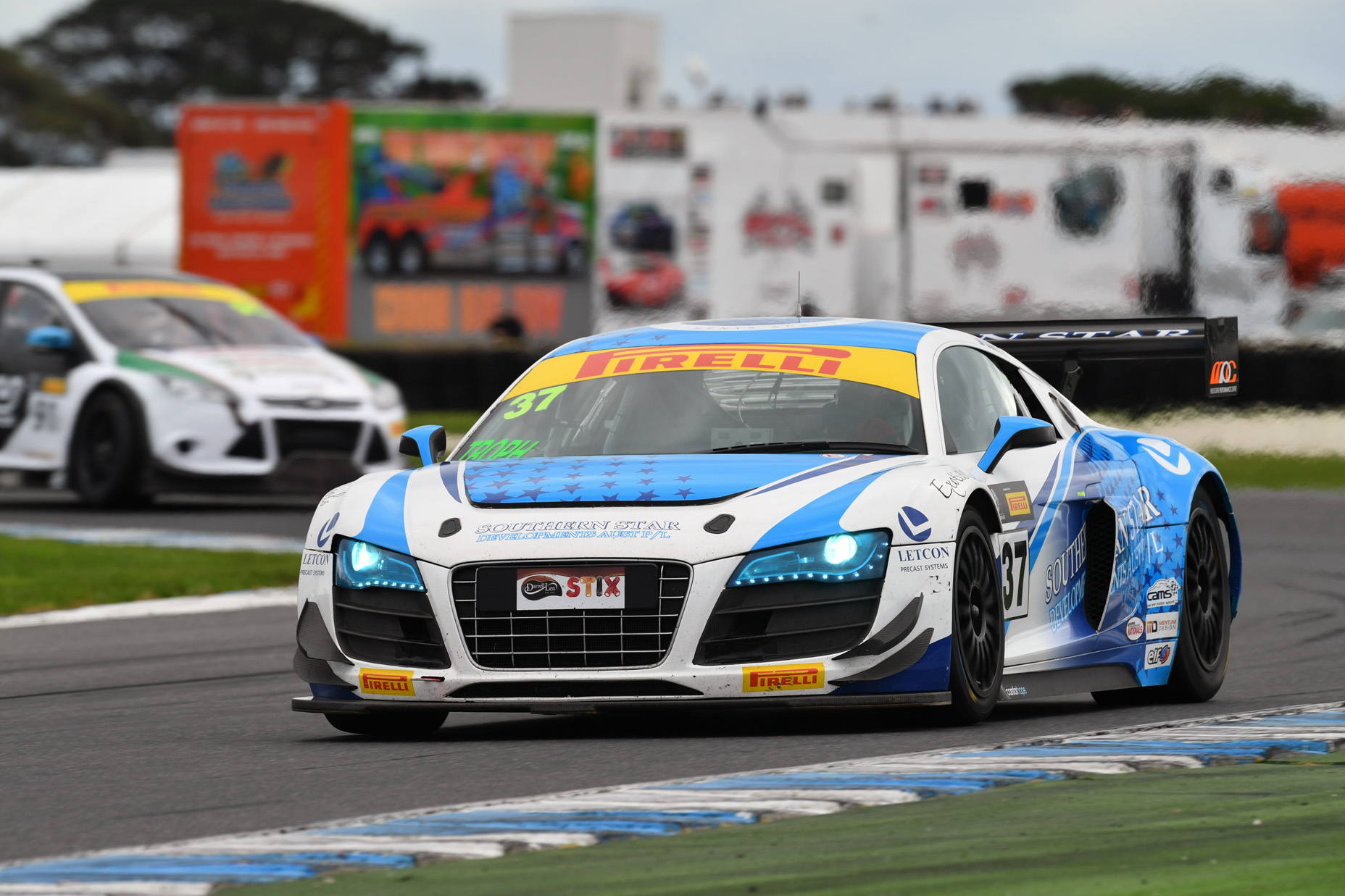 After five rounds of racing, the title came down to sprint to the flag in the final race of the 2016 CAMS Australian GT Trophy Series presented by Pirelli.
"I've got to thank Audi Sport Customer Racing Australia and Seppy my engineer, he's really driven me all year and pushed me along, it's been great," beamed Rob Smith, who claimed the Trophy Class title by just six points from Greg Taylor in the dramatic finale.
"Consistency always pays off in this game," he added. "The Australian GT Trophy Series is just fantastic, thanks to Pirelli and the team."
Smith held the points advantage heading into the final race and needed to finish third or better to seal the inaugural Series title.
The only man who could challenge him was team-mate Taylor, who had to win the race to keep his title hopes alive.
The GT Motorsport driver duly delivered, narrowly holding off Kane Rose (Melbourne's Cheapest Cars) in a thrilling duel throughout the final race of the year.
A late race safety car made for a nail-biting finale as Rose shadowed Taylor in the finale two lap sprint to the flag, while Matthew Turnbull (Fire Rating Solutions) did all he could to harry Smith in the battle for third place in Trophy Class.
In the end Taylor held on to win by little more than half a second while Smith resisted the pressure from Turnbull, thereby clinching the Trophy Class title.
Scott Hookey held an unassailable lead in the Challenge Class to claim the title over Ockert Fourie, though a puncture hampered his progress in the finale.
The Exotic Track Days entry ended the race third in class while Adrian Flack and Richard Gartner (Safe-T-Stop) combined to win the event over Brendan Cook and Fourie aboard the KPH Racing/OLOF Cosmetic Dental Spa Porsche.
Travers Beynon raced his way to fifth in Trophy Class after his team repaired the Audi R8 LMS with just minutes to spare following an incident in the opening race which saw Keith Kassulke and Jake Camilleri also suffer damag in the shortened encounter which was declared a non-event.
The well-oiled MARC Cars Australia team repaired both cars ahead of the start of Race 2, with Camilleri rewarding the team's efforts with class victory.
Jack Smith raced his way to second in Class both for the round and the season while John Goodacre claimed third for the weekend in an impressive performance in his first Australian GT Trophy Series appearance.
Like Camilleri, Kassulke rebounded from the early incident to claim a popular third place in the hugely competitive MARC Class title.