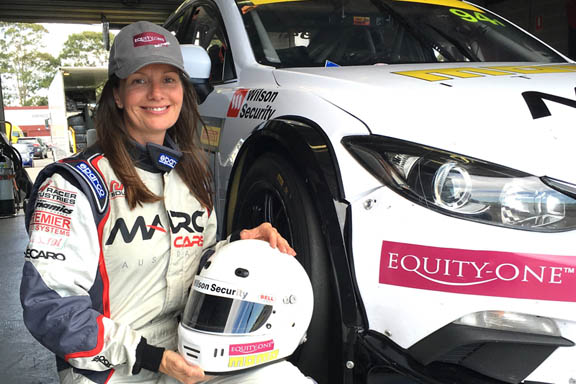 In her return to top level motorsport, Melinda Price will become the first woman to compete in Australian GT when she starts the #94 MARC Car Mazda 3 V8 in this weekends first round of the CAMS Australian GT Trophy Series presented by Pirelli as part of this weekends Shannons Nationals at Sandown.
Price is partnered by young Formula Ford driver Liam McLellan in this weekends two fifty-minute mini enduros, and is excited to be back behind the wheel.
"It's a fantastic opportunity I've been given by Ryan McLeod and the MARC Car team and my personal supporters, I'm excited to be back behind the wheel of a fast race car in a great national series." Price said.
This weekends first round of the GT Trophy Series will see Price return to driving a V8 race car for the first time in over 15 years after a long sabbatical.
"Although It's my first major race meeting in a while, I have done quite a bit of racing at historic events over the past couple of years, and after some success I decided it's time to make a comeback in a more serious category." Price said.
Price is determined to compete in the full championship and is hoping for a strong result at this weekends first round.
"I'm hoping that we can put in a solid weekend and then we can lock in a program for the rest of the MARC Championship with the team.
"This is my first time back in a car with this much power and speed, and it's pretty exciting to be honest. It's been a while so I'm taking my time to settle in."Price said.
"The MARC Cars Mazda is fantastic to drive and my confidence is building with each lap in the car. I was a little nervous but the whole team is really supportive, so I'm feeling a more and more comfortable as each session progresses." Price said.
Price makes her comeback with support from Exedra Motorsport, Momo, Wilson Security, Monster Moves Australia Relocations and MARC Cars Australia.
"After unexpectedly finding myself behind the wheel again five years ago, after a ten year break – I never expected to find myself in the position I am in this weekend."
"I've completely fallen in love with motorsport all over again, and am incredibly appreciative of the people in the background who have had the belief in me to encourage and assist me to get to the track this weekend – namely John Bowe and Bruce Williams." Price said.
"Being the first female to compete in Australian GT is an honour I didn't think I would be earning at this stage and I am just delighted to be competing again at such a high level."
"I couldn't be here without the support of my backers and I want to thank them all very much for having the faith in me." Price concluded.
The GT Trophy Series will be held over 2 x 50 minute races on Sunday as part of the CAMS Shannons Nationals Championship Series.