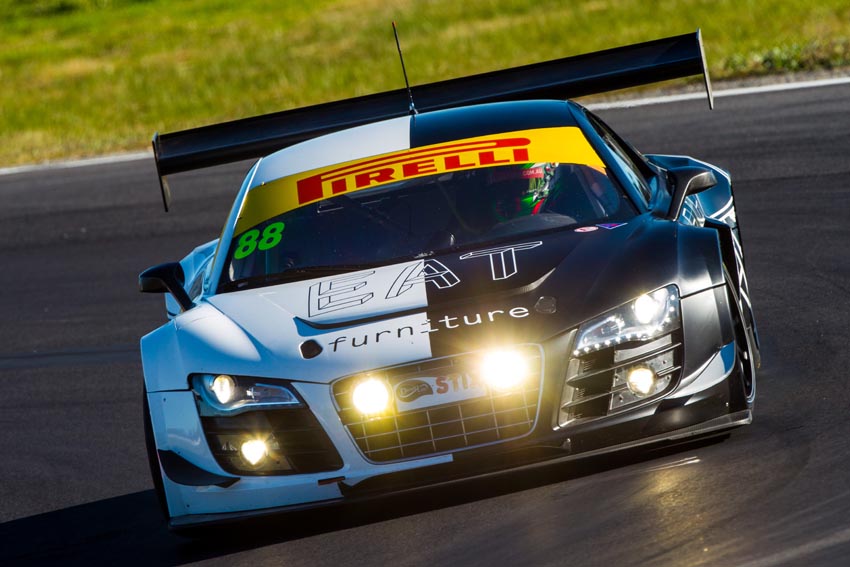 Rio Nugara and Jake Fouracre will start from pole position in the first of tomorrow's 50-minute races at Winton for Round 2 of the CAMS Australian GT Trophy Series presented by Pirelli.
The pair shattered the previous qualifying lap record, their 1:18.967 more than 2.5 seconds faster than the previous marker set down by Cam McConville in 2012.
"That was absolutely on the limit," said Fouracre after the session.
"On my first lap I get held up a little bit, so that was ruled out, but then I knew at the end I had two laps.
"I lost a little bit of time in the last part of the lap, so I was expecting a mid-19-second lap."
"We're quietly confident," smiled team-mate Nugara.
"Jake was just incredible – he's just come out and gone bang, so everything is looking really good for us.
"The plan is Jake will start and I will come in and do what I can, and we'll just do the best we can – it's all we can ask for."
Alongside the Eat Furniture Audi R8 LMS on the front row will be stablemate Steve McLaughlan, who qualified the Valvoline Jamec Pem Racing entry in second.
It's an all-Audi second row too with Matt Stoupas (Kentucky Fried Chicken) and Rod Salmon (Skwirk Online Education) locking out positions three and four respectively.
Salmon heads a tight pack, with fourth to eighth covered by less than a second.
Richard Gartner (Safe-T-Stop) is the leading Lamborghini in fifth place, narrowly beating Rob Smith in the Southern Star Developments Audi R8 Ultra.
The Lamborghini versus Audi battle is continued on the fourth row with Jan Jinadasa (JJA Consulting Lamborghini) alongside Rick Mensa (CCC Polished Concrete Audi).
Xaiver West (Malibu Boats) and Emanuel Mezzasalma (Harcourts Epping) locked out row five, qualifying their Porsches ninth and tenth respective, while Travers Beynon will start 11th in the Audi R8 LMS.
After a troubled start, John Goodacre recovered to qualify the Gap Solutions/SEKTOR MARC Focus V8 in a solid 12th place ahead of Mark Griffith in the iconic Griffith Corporation backed Ferrari F430.
Con Whitlock recorded the 14th fastest time in the Actizyme Audi R8 LMS, which this weekend bears a striking new livery.
The CAMS Australian GT Trophy Series presented by Pirelli features two 50-minute races tomorrow (June 11), the first starting at 09:30.
Race 2 is scheduled to start at 12:20, with both shown live and free online via the Australian GT website.
Qualifying Results
| | | | | |
| --- | --- | --- | --- | --- |
| Pos | Competitor/Team | Driver | Vehicle | Best |
| 1 | Audi Sport Customer Racing | Rio Nugara/Jake Fouracre | Audi R8 LMS Ultra | 1:18.967 |
| 2 | Audi Sport Customer Racing | Steve McLaughlan | Audi R8 LMS Ultra | 1:20.466 |
| 3 | Kentucky Fried Chicken | Matthew Stoupas | Audi R8 LMS Ultra | 1:21.006 |
| 4 | Audi Sport Customer Racing | Rod Salmon | Audi R8 LMS Ultra | 1:22.087 |
| 5 | Safe-T-Stop | Richard Gartner | Lamborghini Gallardo GT3 | 1:22.277 |
| 6 | Audi Sport Customer Racing | Rob Smith | Audi R8 LMS Ultra | 1:22.429 |
| 7 | JJA Consulting Group | Jan Jinadasa | Lamborghini Gallardo GT3 | 1:22.836 |
| 8 | CCC Polished Concrete | Rick Mensa | Audi R8 LMS | 1:22.920 |
| 9 | Malibu Boats | Xavier West | Porsche 997 Cup Car | 1:23.653 |
| 10 | Harcourts Epping | Emanuel Mezzasalma | Porsche 997 Cup Car | 1:23.900 |
| 11 | Travers Beynon Racing | Travers Beynon | Audi R8 LMS | 1:24.605 |
| 12 | Gap Solutions/SEKTOR | John Goodacre | MARC Focus V8 | 1:25.559 |
| 13 | Griffith Corporation | Mark Griffith | Ferrari F430 | 1:25.988 |
| 14 | Whitlock Bullbars | Con Whitlock | Audi R8 LMS | 1:29.869 |