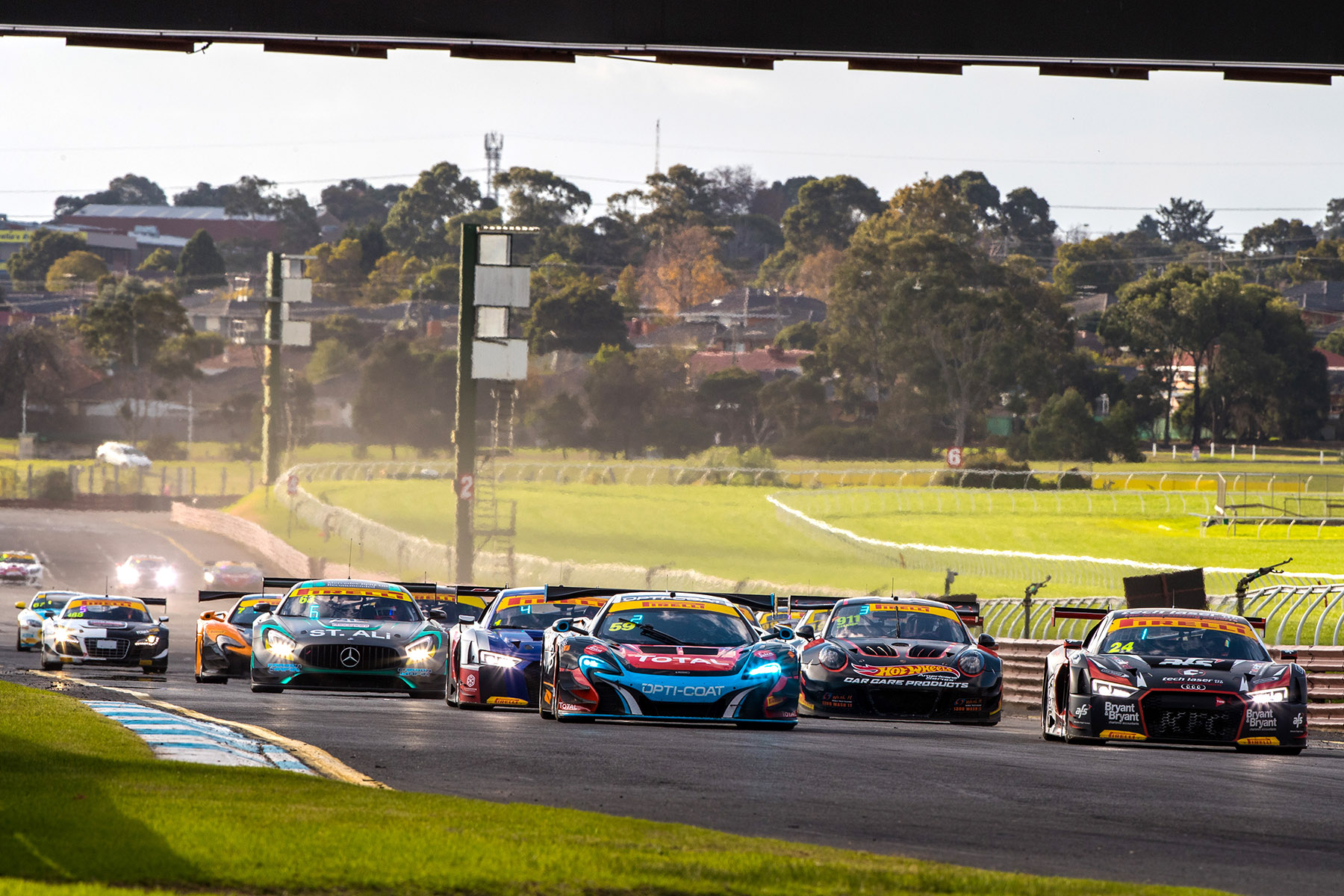 Australian GT returns to action this weekend at a venue for which GT competition is synonymous – Sandown International Raceway in Melbourne's south-east.
Over more than 50 years the popular Victorian venue has played a significant role in GT competition, both in the modern era, and across the formative years, settling battles between the likes of Leo Geoghegan and Bob Jane then later, Alan Jones and Peter Brock.
This year Sandown will again contribute to the history books [and Wikipedia], with the 3.104-kilometre, 13 turn circuit hosting both the final round of Australian GT's Endurance and Sprint championships – this weekend seeing the hotly contested Endurance title settled across three one-hour legs.
The event too will signal the introduction of a new naming rights sponsor for Australian GT, with iconic premium automotive retailer 'Dutton Garage' claiming the title branding of the new look 'Dutton Garage Sandown GT Cup' whilst they will also stay with Australian GT for the Gold Coast event in late October.

Leading the charge coming in to the Sandown event will be two-time CAMS Australian GT title-holder Geoff Emery and former Supercars champion Garth Tander. The duo – along with their Valvoline Audi R8 LMS GT3 – have been the form team over the last two seasons of Australian GT, but whilst regulars on the podium, they have been unable to string together an Endurance Championship title, although after two solid finishes leading into Sandown, that could likely change come Sunday afternoon!
They won't have it all their own way though, with former Sandown race winner Fraser Ross (with Ryan Simpson alongside) and 2017 endurance champion Peter Hackett within reach of the title should the Audi team falter.

Audi have never claimed an Endurance Championship crown, despite being the dominant force in the Sprint Series across the last five seasons (three of those seeing them handed the coveted #1 plate, whilst Emery comfortably leads both the Endurance points and the Sprint series points this season), so they will be out in force to ensure that all important victory falls their way.
Fraser Ross and Ryan Simpson are the closest team to the Audi pairing, just 111 points in arrears, relative light years, but across three hours at Sandown anything can happen.. Hackett too is within reach, and with the mighty Eggleston Motorsport Mercedes-AMG beneath him, he has every chance of closing down the deficit to the leaders, but like the 59Racing McLaren, will have to rely on Emery and Tander suffering some kind of setback, and three AGT titles in five years suggests that might be a tall ask..

The trio will also face the in-form Liam Talbot who will return to the Trofeo Motorsport team, with whom he and Shane van Gisbergen shared victory at The Bend last time out, the former AGT race winner joining Joseph Ensabella who drove the #129 Lamborghini at Phillip Island alongside Supercars team-owner Tim Blanchard.
Whilst focus will be very much on the outright battle at the front of the field, it won't just be the GT3 category competing for championship honours with the GT4 title also up for grabs at Sandown.
Last year Justin McMillan's M-Motorsport team contested the GT4 title with the mighty KTM X-Bow GT4, falling just short of championship victory against Jeremy Gray's V8-powered Aston Martin Vantage.
This year McMillan and team-mate Glenn Wood have another battle on their hands, but the title fight is against a team from across the garage, the Vantage Freight Racing KTM of David Crampton and Trent Harrison. The two cars have been locked together all season, but a setback after a technical failure at Phillip Island has given McMillan and Wood a distinct advantage heading into Sandown, but their team-mates and title rivals will be looking to impress upon them, that they will push hard across every step of the three hour journey.
They will also have their work cut out for them with the return of the 59Racing McLaren 570S GT4 that took Ryan Simpson to a pair of wins at the [Sprint] season-opening Australian Grand Prix in Melbourne. With Simpson stepping into the 720S GT3 alongside Fraser Ross for the Endurance Championship, the car had been sitting idle, but this weekend it returns with its own impressive line-up.
Christian Fitzgerald – son of GT Production legend Peter – will step into the seat for his Australian GT debut alongside Englishman Michael O'Brien who just last weekend completed his second season of British GT aboard an identical McLaren, with a Pro-Am podium at Donington, the duo will be rookies, but carry a wealth of experience with them, and they will be looking to make an impression, presenting the title contending KTMs with another element to consider..!
With regulations changed ahead of the Sandown event, fans will encounter a new scenario with respect to how the three single one-hour race legs will contribute to the outright result.
As an endurance round that was modified to allow teams that did not have access to refuelling and provide single driver entries an opportunity to compete, the points will not be decided until the final lap on Sunday afternoon.
Each leg will see the clock stop, then restart again at the beginning of the following hour. Compulsory pit stops will remain the same, as will tyre allocation. No single driver (in a two-driver entry) can achieve more than 55% of full race distance, however if they choose to contest one of the three race legs each, then split the final race as required, that is entirely down to what strategy each team would like to play.
The revised regulations have also opened the door for a number of teams who are looking to gain an advantage ahead of the closing round of the Australian GT 'Sprint' season in early November, with a string of 'Invitational' cars joining the endurance championship contenders.
Melbourne's Dale Paterson has been on a steep development curve with the Reiter Engineering built Camaro GT3, a car which has been running strongly this year in the 'AGT Trophy Series' (off the back of a round win at Barbagallo), and a car in which he just cannot get enough seat time. The Melbourne-based aftermarket engine tuner loves nothing more than to wind up the fans with the Camaro's impressive 7.9-litre Chevrolet V8, but he won't be alone.
Nick Karnaros is leading the Australian GT 'Trofeo Challenge' category, the Porsche driver – like title rival Jim Manolios (who will be sharing driving duties with Ben Stack) in the Trofeo Motorsport Lamborghini Huracan Super Trofeo EVO – looking to turn valuable laps ahead of the Gold Coast and Sandown November rounds, the two teams intent on claiming the maiden title for the new category.
Joining the AGT Trophy Series and Trofeo Challenge teams (who are not eligible for points towards their Australian GT campaigns) are a couple of cars that have been regulars amongst the GT3 machines in Production Sports events around the country in recent years, the SIN R1 GT and the Daytona Coupe of Melbourne's Richard Bendell (of MoTeC fame).
The SIN R1 GT is an impressive beast, as will be the GT4 that is expected to make its first appearance at the Gold Coast – the R1 GT though boasts a 500+ horsepower LS7 in a lightweight body designed and built by Bulgarian/German automaker SIN Cars – at Sandown the car will be campaigned by Ben Schoots.
Joining it will be the mighty Daytona Coupe – driven by Brendon Woods – that often finds its way into front-running sportscar battles on circuits around Victoria, the car also boasts one of the fastest speeds down Conrod Straight during the annual Bathurst 12-Hour (for which it is a class podium finisher), whilst it's 60s styling attracts plenty of attention everywhere it goes. With the annual Bathurst event banning Invitational cars from 2020, you might just see a bit more of this team in Australian GT in coming months..
Like the Trophy Series and Trofeo Challenge cars, they will be eligible for points and trophies in the Invitational category of the new 'Dutton Garage Sandown GT Cup', which combines points from both Sandown events (20-22 September and 8-10 November).

Weather predictions for the Sandown weekend are sketchy, with some southerly weather expected and possibly a few showers on Saturday after a warm and windy start on Friday.
Qualifying and race action will be covered LIVE on the Shannons Nationals LIVE streaming page http://www.thenationals.com.au/live/ whilst a post-race highlights program will be broadcast on Fox Sports Australia in coming weeks (details will be revealed online).
Further information and details from across the event will also be available on the Australian GT website and social media platforms.
——————————————————–
Rnd#2 CAMS Australian Endurance Championship
Sandown Raceway, Melbourne, Victoria
20-22 September, 2019

Schedule (Times; AEST)
Friday, 20 September, 2019
10:10am – Practice (40-minutes)

Saturday, 21 September, 2019
11:40am – Qualifying#1 (20-minutes)
12:30pm – Qualifying#2 (20-minutes)
03:30pm – Race (Leg#1 – 60-minutes)

Sunday, 22 September, 2019
10:35am – Race (Leg#2 – 60-minutes)
04:50pm – Race (Leg#3 – 60-minutes)

——————————————————–
About Dutton Garage
Dutton Garage is one of the world's premium retailers of classic, collectable, exotic and rare cars with an iconic showroom based in Melbourne, Australia. With a global buying power and an extensive international network, they are able to source, purchase and sell vehicles for customers worldwide. Their expert staff provide a fully tailored service for customers looking to purchase their next collectable, classic or exotic car.
For more information, visit their showroom at; 41 Madden Grove, Richmond (Melbourne), Victoria, call 03 9419 8080, visit www.duttongarage.comor email sales@duttongarage.com